Troy teens join forces with statewide anti-tobacco effort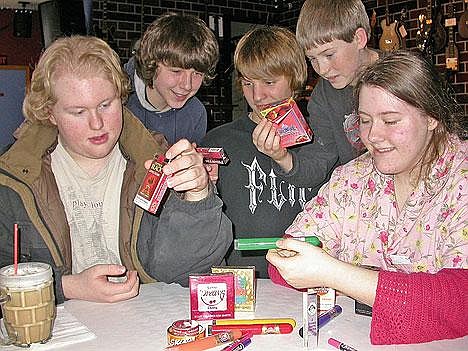 Troy High School students, from left, Logan Anderson, Jeremiah Johnson, Keith Johnston, Andrew Selle and Delphia Anderson look over fruit-flavored tobacco products that tend to catch youngsters' eyes. (Photo by Gwen Albers)
|
February 13, 2007 11:00 PM
By GWEN ALBERS Western News Reporter
It took meeting a girl to convince Keith Johnston to quit smoking and chewing tobacco.
Now the 15-year-old Troy sophomore is talking to local youth about not starting.
Johnston and several peers from Troy High School are involved with a teen-led movement in Montana against tobacco industry. Funded by Montana Use Prevention Program, reACT uses youth to talk to other youth about the consequences of smoking and chewing tobacco.
Ralph Stever, a prevention specialist for Flathead Valley Chemical Dependency Clinic in Lincoln County, is heading up the effort. He meets with the students weekly to work on the project.
"Ninety percent of the clients I work with say their first drug was tobacco," Stever said. "It teaches kids how to lie. Every time they lie it makes it easier for future lies."
Johnston is proof.
After he started smoking at age 13 and chewing at 14, he said he would buy cigarettes and tobacco with lunch money from his parents. To support his habit of three packs of cigarettes a week and three cans of chew every two days, Johnston asked an adult to buy the stuff. It's illegal for anyone under 18 to buy tobacco products.
When it came time for lunch, Johnston would trade students cigarettes for food.
After he met a girl opposed to his tobacco use, Johnston stopped cold turkey. It was tough.
Johnston isn't alone when it comes to smoking and chewing tobacco.
In Lincoln County, 18 percent of eighth-graders smoke and 10 percent chew. Twenty-seven percent of those in 10th and 12 grades smoke, while 18 percent of 10-graders and 20 percent of 12th-graders chew.
Smoking is linked to risky behavior, Stever said.
A 2005 survey of Montana seventh- and eighth-graders showed that:
* 68 percent of those who smoked had at least one alcoholic drink in the last 30 days; 16 percent of the non-smokers had one drink.
* 18 percent had used methamphetamine compared to .8 percent among the non-smokers.
* 47 percent had used marijuana compared to 3 percent among the non-smokers.
* 37 percent had sex in the past three months compared to 4 percent among the non-smokers.
* 32 percent attempted suicide compared to 9 percent among the non-smokers.
Statistics like these could be why Stever got students from Troy involved, including junior Logan Anderson.
"I recognized tobacco is becoming more popular," the 16-year-old said. "It takes a lot of lives - 1,200 a day."
With a $1,000 grant from reACT, the students from Troy attended a day-long work session in Helena. They learned how to talk to peers about tobacco.
The students also will use the money to make a 30-second commercial that will air on cable television 320 times. They will appear on a radio talk show in Libby and make six radio spots, and speak to fourth-, fifth- and sixth-graders in Troy and Libby.
Students from Troy and Libby will participate in a poster contest. First-place will be an iPod; second, a compact-disc player; ad third, a Pizza Hut family dinner.
Kootenai Kiwanis and St. John's Lutheran Hospital also are supporting the effort.
---