Florists ready for non-stop action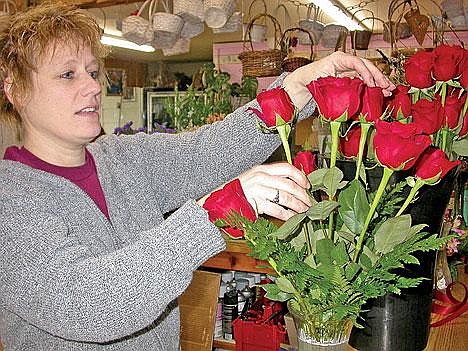 Shannon Edwards-Myslicki, owner of Libby Floral and Gifts, arranges roses for Valentine's Day. (Photo by Gwen Albers)
|
February 13, 2007 11:00 PM
By GWEN ALBERS Western News Reporter
Julie Brossman worked late Monday and Tuesday to be ready for Wednesday's Valentine's Day rush.
A floral designer at Blossom Boutique at 681 Highway 2 West in Libby, Brossman expects adrenaline will get her through the busy day for retailers and restaurants.
"You're pretty much running on whatever you have left," she said.
The National Retail Federation expects Americans to spend $16.9 billion on Valentine's Day, with the average consumer shelling out $119, up from $100 last year. Flowers will account for 58 percent of the purchases by men. Fifty-three percent of the people will go out to dinner, 49 percent will buy candy and 27 percent will buy jewelry.
It will be Brossman's first Valentine's Day at Blossom Boutique. She knows, however, what to expect from working at other florists.
"It will be non-stop," Brossman said. "It's going to involve the designers strictly working on orders for flowers. We will have several drivers going non-stop and people taking orders."
As of last Friday, Blossom Boutique had 50 orders for floral arrangements, but most will come in the day before Valentine's Day.
Libby Floral and Gifts at 4014 Utah Ave. will be very busy, said Shannon Edwards-Myslicki, owner of the 36-year-old family-run business near St. John's Lutheran Hospital.
"We put on extra staff and extra delivery drivers so we can make delivers in a timely manner," Edwards-Myslicki said. "We also have a lot more walk-ins."
She began taking orders on Jan. 23, and as of last Friday had 25 orders.
"Most wait until the day of," Edwards-Myslicki said. "We do a lot of credit card orders over the phone."
At Center Drug in Libby, "things were good over the weekend," said owner Dave Zwang.
"But it won't get wild until Valentine's Day," Zwang said. "Everyone waits until the last minute."
Within days after Christmas, Valentine cards were put out. Sales began in mid-January, he said. Other popular items at the store include candy, jewelry and perfume.
Diane Hoover, front desk clerk at Venture Motor Inn and Restaurant, isn't sure what to expect for Valentine's Day, other than it will be busy.
In addition to having the restaurant open for breakfast, lunch and dinner, every one of the motel's 71 rooms will be full with the kickoff of a four-day Class B girls' and boys' basketball tournament in Libby. Participating schools include Troy, Plains, Mission, Thompson Falls, Superior and Arlee.
"Valentine's is like the busiest day of the year, and with the schools here, I'm sure it will be," Hoover said.
Extra cooks and wait staff will be on hand. The Venture, which is offering a sirloin steak and shrimp scampi dinner special, does not take reservations.
"If you want to avoid a crowd, I'd probably come early evening," Hoover said.
---