Laid-off Stimson workers prepare for uncertain future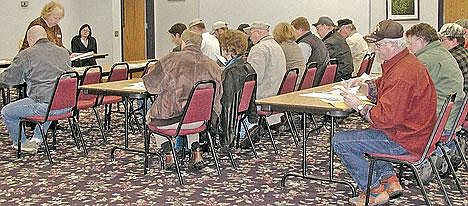 Trish Hart, a case manager with the Job Service in Kalispell, talks to workers from the Stimson finger-jointer on Wednesday. The mill last week laid off 18 of its 31 employees.
|
February 1, 2007 11:00 PM
By GWEN ALBERS Western News Reporter
Junior Johnson has experienced three layoffs during his 40 years of working at the St. Regis, Champion and then Stimson lumber mill in Libby.
He was laid off briefly when the plant went from Champion to Stimson and then for six months when Stimson closed in December 2002.
The most recent was last week when Johnson and 17 others at Inland Northwest-Stimson finger-joint plant were handed pink slips for what's been called "indefinite" layoffs. Thirteen workers remain at the plant in the Kootenai Business Park on Highway 2 South.
Although Johnson remains optimistic about getting called back, the 58-year-old doesn't want his fellow workers to ignore options.
"There's a chance of going back, but in the meantime, we want to enable the guys to take advantage of any opportunity," said Johnson, a shop steward with the union that represents the Stimson workers in Libby.
On Wednesday, representatives from Job Service and Flathead One Stop Work Force Center, both in Kalispell, met with laid off Stimson workers at the Ponderosa Room in City Hall.
0002000007530000052774D,They provided employees with information on how to find another job, and programs for retraining, unemployment insurance and handling finances, said Laura Gardner, program consultant with Flathead One Stop Work Force Center.
The layoffs were due to curtailed production, said Jeff Webber, Stimson's vice-president of manufacturing in Portland. Stimson manufactures lumber for home construction. New housing starts dropped 25 percent since the first of the year.
Stimson is one of many lumber companies struggling to break even. Many blame the low lumber prices on a deluge of discounted imports from Canada, which has been ramping up production in an attempt to rid itself of millions of acres of beetle-killed timber.
That's why the workers recently laid off from Stimson qualify for federal Trade Adjustment Assistance, which is designed to help workers affected by imports get back on their feet by extending unemployment benefits and job retraining from six months to two years.
It's a program that Libby's Mark Kroll took advantage of.
Kroll was 49 when he lost his job in 2002 at the Stimson plywood plant. He'd worked there for 19 years.
"We knew the handwriting was on the walls," he said. " The whole 19 years, we heard rumors about shutdowns."
Kroll had looked into a career in the health field and qualified for the federal Trade Adjustment Assistance program. It paid for his tuition, books and family's expenses for two years.
Kroll earned a certificate through distance learning and now runs the medical records department at St. John's Lutheran Hospital in Libby.
While going to school, he volunteered at the hospital. Kroll has been working there in his current position for two years.
"It's very satisfying because you do make a difference in people's lives," he said. "I would say take advantage of any and every educational opportunity."
---