A young man with definite plan for his life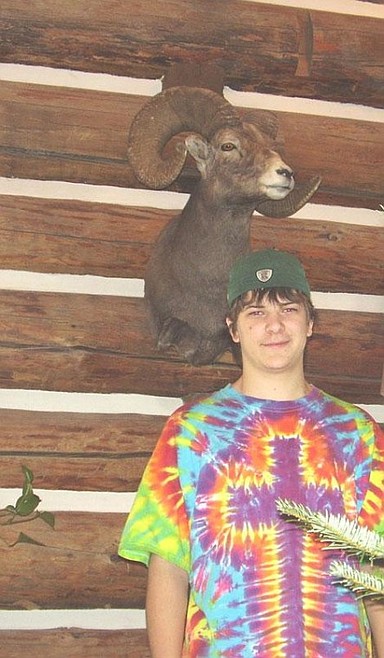 A young man with definite plan for his life
by
Carol Holoboff Western News
|
December 27, 2007 11:00 PM
Joel Brian Cutsforth marches to that different drummer Henry David Thoreau talked about. He will only be 16 in January, but he understands what Thoreau meant when he said, "That man is richest whose pleasures are cheapest."
Joel was born in Dillon and moved to Libby with his family when he was in the fifth grade. The Cutsforth's log home is surrounded by outbuildings for all their animals, but Joel's favorite pet is his turtle. Perhaps because he got it when he was visiting his grandparents in Arkansas, but maybe the turtle, who carries his home with him, represents the simplicity that appeals to Joel.
The most exciting thing that has ever happened to him, according to Joel, was when he broke his collar bone. Joel learned to ski when he was about five, and a couple of years ago he took up snowboarding. He crashed while boarding at Turner Mountain and, although it hurt a lot right at first, he managed to get back on the board and continue down the hill. He waited for his friends to finish their fun on the hill before telling them he was hurt. He said he didn't realize it was broken until two weeks later and then it was too late to set the bone. For Christmas he wants a season pass to Turner, for more boarding, of course.
Joel and his dad do the usual "guy" things, like hunting, fishing and hiking. When Joel was 12, he shot a bighorn ram near Thompson Falls with a 7mm caliber hunting rifle at 150 yards. "Been hunting every year since, but never hit anything else," he laughs.
Joel says he isn't much of a student. His favorite class is PE and he likes football. He hopes to play varsity football as a lineman next year for the Libby Loggers. His grades are passing. He has no plans for college because he wants to work for the Postal Service like his dad and all he needs to take the federal exam is a high school diploma. He doesn't want a bunch of student loans to worry about and if he can get on with the Postal Service he will have health benefits and a retirement plan. "I just want to make a living and have time to enjoy things like snowboarding and hunting and family."
Joel values his relationship with his parents. For the past year, he has been attending an adult Catholic initiation class with his dad. He was baptized on Easter last year and when asked what made him decide to get baptized, his answer was simply, "My mother asked me to."
He wears a tie-dyed cross on his T-shirts and smiles at everyone. Sometimes he attends a Christian youth group and he enjoys Christian rock. He hates Rap music and when asked what makes him different, he said, "I don't smoke, drink or do drugs."
Leo Durocher, the famous baseball manager said "Nice guys finish last," but he never met Joel Cutsforth.
---