Baucus secures new van for Libby Senior Center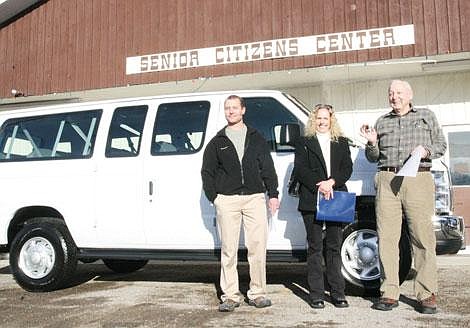 Baucus secures new van for Libby Senior Center
|
December 18, 2007 11:00 PM
Residents in Libby are hailing the brand new addition to an aging transport fleet Thursday after Montana Sen. Max Baucus announced the donation of a new van to the Senior Citizens of Lincoln County transport service.
According to Nancy Todd, the coordinator for the Transportation Department at the Libby Senior Center, the center has been trying for a new vehicle for 1 1/2 years.
"All our equipment is 10 years old and older, there are lots of repairs that need to be done," Todd said through tears after the center received the van. "We needed more to accomodate clientele. This will help tremendously."
The Ford Motor Company donated the van after representatives attended Baucus' Economic Development Summit in Butte in May. The van will be used to transport residents who need a ride - to doctor's appointments, pharmacies, grocery stores, meals at the senior center, dialysis, trips to Kalispell and local shopping trips, among other things.
"This van is so much more than just a vehicle for Lincoln County residents. This van means high school and college students can get to class, seniors can see their doctors and residents can do what they need to do in order to take care of their families and their communities," Baucus said. "Their hard work inspired me to personally ask Ford to lend a helping hand."
Baucus said the Senior Citizens Lincoln County transport service is used by many Lincoln County residents, especially those most acutely feeling the pinch of high gas prices. The new, nine-passenger van is the sixth vehicle in the service, which takes needy residents around Lincoln County, to Kalispell and as far as the Idaho border if necessary.
Ryan Andreessen, of Timberline Auto Center, was on hand to deliver the van to the senior center and Libby Senior Center President Earl Messick.
"Special thanks to Earl Messick of the Senior Citizens of Lincoln County and to everyone there who keeps this program running," wrote Sen. Baucus in a letter read at the Libby Senior Citizens Center. "Your hard work inspired me to personally ask Ford to lend you a helping hand. I would also like to thank Terry Andreessen and Ford for responding with this generous donation."
A letter was written by Bruce Andrews, vice president of governmental relations at the Ford Motor Company, to accompany the new van.
"This Ford vehicle will assist the senior citizens of Libby as they continue their good work on behalf of your community and its residents. We at Ford Motor Company commend and applaud these efforts and their invaluable impact on your fellow Montanans," Andrews stated in the letter.
Baucus has a long history of encouraging giving for rural charities. Earlier this year he helped bring the first-ever national Rural Philanthropy Conference, sponsored by the Council on Foundations, to Missoula.
Baucus secured the van for the Libby Senior Citizens Center "because of how connected Max has always been to Libby," according to Baucus' Field Director Kirby Campbell-Rierson. "He contacted Ford and Ford said, 'What can we do to help?' Max got the wheels going with Ford."
In 2006 Baucus used his position as Chairman of the powerful Finance Committee to pass a provision that allows people to transfer up to $100,000 from their IRA savings accounts directly to a qualifying charity — free of income tax.
"Rural charities are necessary to keep the wheels of Montana turning and in that spirit I have worked hard to encourage giving to these smaller, hands on groups" said Baucus.
---