Black lab pups want home for Christmas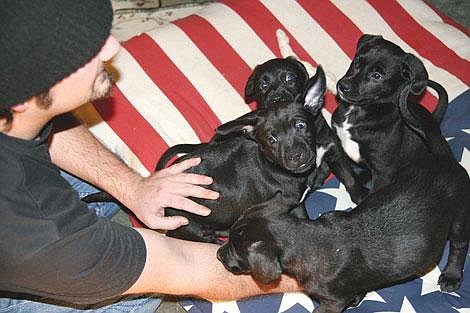 Black lab pups want home for Christmas
by
Hope Nealson Western News
|
December 11, 2007 11:00 PM
Matt Damm didn't expect to play daddy to a litter of black Labrador puppies, but when their mother was poisoned with antifreeze, he stepped up to the plate.
"I'm a sucker for pets," he said, noting that the mother, an australian shepherd and whippet mix, belonged to his neighbor who worked full-time and didn't have the time to nurse the tiny babies.
According to Damm, that meant bottle feeding the puppies a special formula every four hours for the first two weeks.
Although the puppies look like their dad - a black lab, they take after their mother, who was extremely smart, sweet and gentle.
"They all act just like her and look like very muscled black labs," he said.
Damm noted the litter is now 8-1/2 weeks old and is eating puppy food.
They are already paper trained, and he is beginning to potty train them.
"They're doing good about letting you know when they need to go outside," he said. "They're learning quick."
"They were raised around people and cats," he said "so they're very sweet."
Damm said responsibly minded people should e-mail him at maddttam@hotmail.com or call him at 295-5025 and leave a message if they are interested in the puppies, four of which are left. Dam prefers e-mailing, as his cat sometimes reprograms his answering machine by walking on it.
---