Loggers gain experience the hard way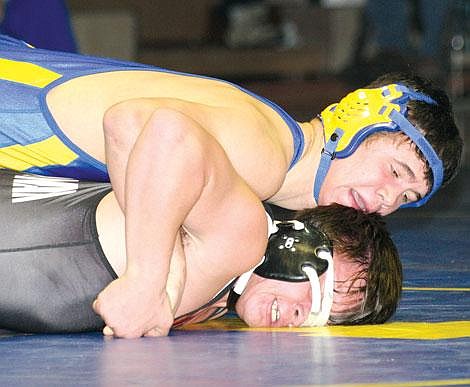 Loggers gain experience the hard way
by
Hope Nealson Western News
|
December 4, 2007 11:00 PM
The Logger wrestlers took a pounding in their first match of the season against Ronan last Saturday night, losing 16-55.
Coach Jay Graham said the team didn't play to its potential.
"This year we have a real young group," he said. "We didn't wrestle real well at all…We made them look a lot better than they are."
Ronan made five pins and won nine matches overall to Libby's single pin from Junior Brandin "Tank" Mills (heavyweight) and three wins, by Sophomore Kyle Sweedman (140) 5-3; Junior Seth Wright (152)13-4; and Junior Justin Graham (189) 6-4.
The Loggers forfeited two weight classes: 98 and 105.
Graham said he took some of the blame in not conditioning the kids enough before the meet.
"I know where we're at with the young kids now," he said in an interview Monday. "Even the ones that won didn't wrestle that well - we weren't in shape," he said, adding "we will be remedying that starting tonight."
Graham said he will be looking for effort more than anything in the upcoming matches, the next one to be held in Libby this Thursday night at 6:30 p.m. in a dual against Bonners Ferry.
"Like I told them in the locker room, 'Hey, here is where the bar is - it's pretty low, so we have no way to go but up.'"
On the other hand, Graham praised the JV team's effort.
"I was happy with the young JV kids," he said. "Our JV wrestled with fire."
Graham said he wasn't going to nitpick, and would concentrate on their conditioning.
"We will get in better shape," he said. "I guarantee that."
98 - Freshman Jesse Robinson of Ronan won by forfeit; 105 - Junior Zack Robinson of Ronan won by forfeit; 112 - Sophomore Cameron Neiss of Ronan pinned Libby Freshman Dakota Bassett, 1:08; 119 - Senior Ryan Hardy of Ronan dec. Libby Freshman Levi Edwards Myslicki, 7-5; 125 - Junior Tyson Noyes of Ronan pinned Libby Sophomore Cody Elliot, 2:30; 130 - Junior Nate Templer of Ronan dec. Libby Sophomore Jeff Miller, 10-2; 135 - Sophomore Micky Cheff of Ronan pinned Libby Junior Ben Elliot, :56; 140 - Libby Sophomore Kyle Sweedman dec. Ronan Freshman Toby Cheff, 5-3; 145 - Freshman Cole McArther of Ronan dec. Libby Freshman Kody Berget, 8-6; 152 - Libby Junior Seth Wright dec. Ronan Sophomore Westyn Kiehn, 13-4; 160 - Senior Rick Luchau of Ronan pinned Libby Senior Derek Silva, 3:41; 171 - Senior Josh Krantz of Ronan dec. Libby Senior Steve Gary, 14-9; 189 - Libby Junior Justin Graham dec. Ronan Junior Marcus Schiele, 6-4; 215 - Senior Frank Swan of Ronan pinned Libby Senior Pat Wood, 2:39; Hwt - Libby Junior Brandin Mills pinned Ronan Senior Tomy Parker, 4:52.
---