Thompson documentary set to be released next spring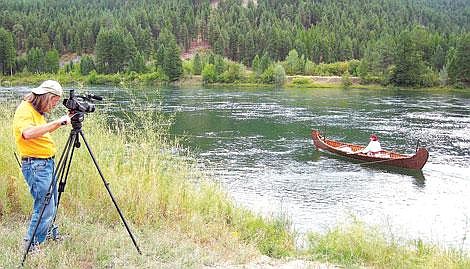 Thompson documentary set to be released next spring
by
Kyle McCLELLAN Western News
|
August 31, 2007 12:00 AM
A Florida filmmaker was in the area last weekend shooting scenes for his upcoming documentary that will examine the life of explorer David Thompson.
George Sibley's film, "Shadows of David Thompson," is one of many tributes to have surfaced this year as David Thompson buffs are arising from relative obscurity to celebrate the explorer's bicentennial.
This year marks the beginning of a four-year celebration recognizing Thompson's trans-mountain crossing and Columbia Basin fur trade establishment that occurred between 1807 and 1811.
One of the main purposes of this film, according to Sibley, is to make people aware "of a guy who we think is pretty interesting and has generally been overlooked."
Sibley is a one-man production team - writing, shooting and directing the scenes that he hopes will cast light on the unknowns of an explorer who brought attention to the tangle of mountains, forests and rivers in British Columbia, Washington, Idaho and western Montana.
Sibley is working in conjunction with various bicentennial groups in the U.S. and Canada and even has support from the Lincoln County commissioners.
"But I've been on my own in terms of style, approach and developing the project," he said.
His work in Libby put him and his crew at many points along the Kootenai River Saturday, where they carried and paddled their mock-up canoe.
"When we finally did our first shot of carrying the canoe, we heard this big cheer come up from across the river," Sibley said.
The actors, "David Thompson buffs," came from Spokane, Wash., and Coeur D'Alene, Idaho.
Sibley, who is in charge of packaging and designing the DVD, plans to release the film from his own tiny studio.
He calls it a grass roots distribution.
But Sibley hopes the small-scale production process will result in big-time broadcast on regional PBS stations.
The film will interweave expert interviews, archival materials and reenactments.
---