Libby overcomes slow start, rallies past Glacier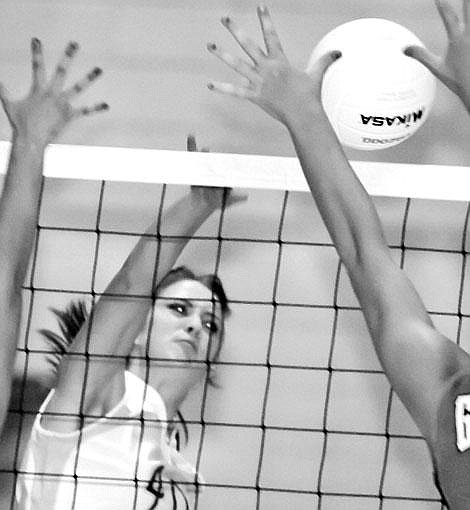 Libby overcomes slow start, rallies past Glacier
by
Hagadone News Network
|
August 31, 2007 12:00 AM
The Loggers took a while to get rolling in their season opener — then it was full speed ahead.
The Libby High School volleyball team beat Glacier 21-25, 25-9, 25-9, 25-17 Tuesday night in a nonconference match.
"We started off slow," said Libby coach Cindy Ostrem-Johnston. "We had quite a few mistakes in that first game. Our serving percentage was terrible. It was 76 percent the first game.
"I was really pleased with the last three games. (The Loggers) were solid, focused, stayed intense."
Brooke Hageness served points 12-25 in the second game, finishing with 10 aces. She led the Loggers with nine digs to go along with nine kills.
"She really got on a roll, and they were good, hard aggressive serves," Ostrem-Johnston said. "But I really felt everybody contributed."
Jackie Mee led Libby with 13 kills and two blocks. Shelby Barton had 29 assists, while libero Megan Wedel and Laice Dedrick tallied seven digs apiece.
Emilee Hashley led Glacier with nine kills. Lindsea Vaudt had 14 assists and eight digs, while Jolee Kampe registered five aces.
Libby is off until the Hamilton Invitational, which begins Sept. 7.
Kills — Gla. 18 (Emilee Hashley 9), Lib. 45 (Jackie Mee 13, Hageness 9); Assists — Gla. 16 (Lindsea Vaudt 14), Lib. 32 (Shelby Barton 29); Digs — Gla. 30 (Vaudt 8, Hashley 7), Lib. 33 (Hageness 9, Megan Wedel 7, Laice Dedrick 7); Blocks — Gla. 4 (four players with one each), Lib. 3 (Mee 2); Aces — Gla. 8 (Jolee Kampe 5), Lib. 16 (Brooke Hageness 10).
---