A tennis revival in Libby?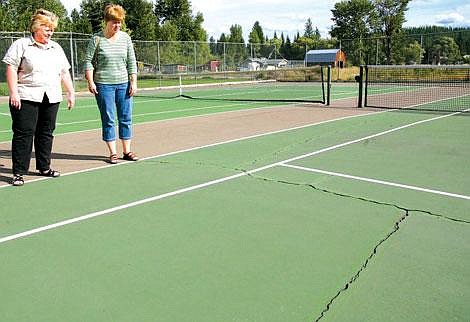 A tennis revival in Libby?
by
Kyle McCLELLAN Western News
|
August 31, 2007 12:00 AM
A local organization with big hopes but small funds envisions tennis as the vehicle that will propel revitalization along a dormant piece of prime land in Libby and spur a more active community.
Too hefty of responsibilities for one sport?
Many don't think so.
They say tennis is different.
To those who play it, tennis offers the gamut of civic engagement, engagement easily extrapolated to real world functioning.
With its intensity, strategy and coordination requirements, experts call it "the sport for a lifetime."
This is the case taken by members of U Serve Libby, a non-profit organization that formed in 1987 to support high school tennis.
Now that the high school team is a self-supporting entity, U Serve confronts its most ambitious project yet.
The goal is six courts — six courts available at no cost within the city limits, six courts accessible to leagues, clinics, tennis pros (Libby has a few) and recreational and high school tournaments.
Six courts to serve a variety of community demographics — a growing retiree population, children, high school players, coaches and the weekend Federers.
"It could be really great for the city in so many ways — for the kids, for the families for the socialization, for the economic benefit," said U Serve treasurer Laurie Mari.
With the help of the executive director of the United States Tennis Association in Montana, Mari and U Serve president Sandy Hauck pitched the idea to Libby City Council at a recent council meeting.
The court project is costly. U Serve members put it at $150,000.
They're requesting up to $100,000 in matching funds toward the $150,000 budget.
The new courts would be built on land that the city is leasing to U Serve, which lies on the south side of Spruce Street near City Hall and the Montana Athletic Club.
Nine courts exist now in Libby. Six are privately owned by Herb Neils at his racquet club on U.S. Highway 37. Three are the property of the high school. Most are crossed by deep, long cracks and deteriorating surfaces.
"You can't run a high school program on three courts," Mari said.
"It's sad that when the high school had a chance to host divisionals in 2006, they had to host it in Kalispell because of courts' conditions."
With the new courts, U Serve hopes to mark Libby as the preferred destination for regional tournaments — to serve, rally and volley in the shadow of the Cabinets.
And why not? Libby was once a tennis-oriented town.
Even Billy Jean King, a 12-time Wimbledon champion who is considered the best female tennis player and one of the greatest female athletes in history, came to Libby decades ago to play against Neils.
U Serve has pledged proper management and support for the new courts.
A part-time employee would be hired during peak times to provide on-site equipment rentals and court maintenance.
But the organization has little money. And that lack of "seed money" discourages financial interest from larger corporate sponsors and grant-lending organizations.
So, it's a slow road ahead.
"We really feel that if we had community courts, the parents could be taking their families out and playing with them when they're really young."
Now, Hauck said, the high school has a "young and enthusiastic" tennis coach in Kyle Hannah and the program is gaining popularity with the student body.
Throw in tennis pro and private instructor Corky Teska, and the base ingredients are set for a solid tennis future.
"Those kids who learn the lessons from him could then go and play on their own on community courts and grow up and just get better and better and better. That's how our team is going to be really good when they get into high school," Hauck said.
The idea is about stimulating the interest and pooling the resources of all affected groups, like the school system, the city, the county and U Serve.
"We need tennis courts," said school superintendent Kirby Maki.
"We really don't want to wait 10 more years. If we got everybody together maybe we could make things happen more quickly."
Equally, the idea is about stimulating cooperation and imagination.
"It's about getting people to imagine what it could be like if they aren't involved in the sport," Mari said.
Hauck said it would be wonderful if all the entities got together and worked for the community courts.
"And you know, we're hopeful for that," she said.
---