Local artist published in national magazine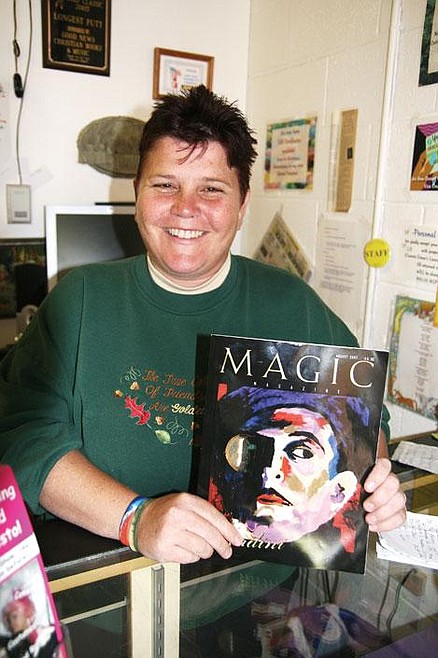 Local artist published in national magazine
by
Erika Kirsch Western News Editor
|
August 29, 2007 12:00 AM
Taking pictures has always been Roxanna Escudero's passion. She now may add being a published artist to her list of accomplishments.
Libby's own Escudero's photography has appeared in a nationally distributed magic magazine recently. Libby's Montana Wonder Theater was highlighted in the August issue of MAGIC Magazine. Embedded within the story were photographs taken by Escudero of the illusion performances held at the Libby theater.
MAGIC Magazine is a monthly magazine in its 15th year of publication. According to magicmagazine.com, MAGIC Magazine is recognized by "Guinness Book of World Records" as the largest-selling magic periodical in the world.
Entirely self-taught, Escudero started photography as a hobby.
"It's been a hobby all my life," she explained. "I always had a Kodak Instamatic in my pocket growing up."
Escudero grew up in Libby, graduating from Libby High School in 1978. She joined the U.S. Navy and served the country for four years. Her husband, Andy, originally from New Mexico, spent his career in the Navy. The couple have three boys, two of which still live in the area, with the third currently stationed in Iraq.
The family was living in Florida when they decided to come back to Libby in 2000.
"I fell in love when we came back home," she said. "We really take for granted what we have here."
In 2000, Escudero began devoting much of her time to photography. She shot mostly wildlife, nature and scenery pictures. She also took a friends' Christmas card photos and a few senior pictures for students in a youth group. She has shot most of her photos on a Canon Rebel, but has recently purchased a Nikon, which she is still learning to use.
"I've shot at least 60,000 pictures with my Rebel," she added. "I take tons of pictures at home too. I don't go anywhere without my camera."
Escudero and her husband opened Good News Christian Books & Music and For HIS Glory Photography in Libby in 2003. She currently does the photography, editing and printing work for many weddings. She also spends much of her time shooting team pictures, Kootenai Valley Christian School's student photos, class and family reunions and passport photos. Escudero also does photo restoration, makes her own notecards and regularly submits her photographic work to various magazines and other publications, she said.
Escudero is also adding author to her many talents. She recently wrote a book titled "Hope for the Hurting, One Mother's Story." Escudero also included some of her own photographs in the book, which should be finished by Christmas.
When Duane and Mary Laflin, owners of Libby's Wonder Theater, were approached for a story to be published by MAGIC Magazine, a disc of photographs, which included photos taken by Escudero, were sent along to be published with the article. Of those photographs, four of Escudero's photos were chosen to be published in the magazine.
"I found out about the pictures when I saw the magazine," she admitted about the publication of her work. "It's a big honor to have something published, but that's not why I do it. I just loving taking pictures and telling a story."
---