Libby takes Kellogg, 53-20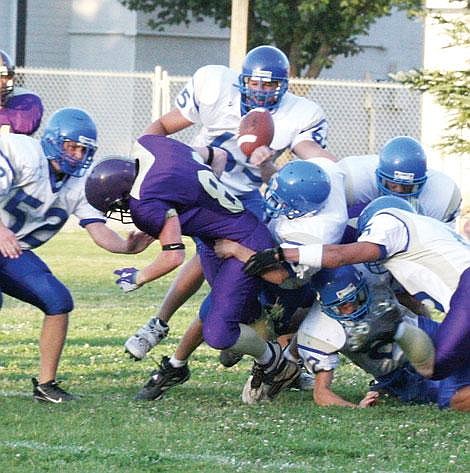 Libby takes Kellogg, 53-20
by
Jason Elliott Hagadone News Network
|
August 29, 2007 12:00 AM
The Loggers looked like a seasoned team in this year's season opener against the Kellogg Wildcats in Saturday's game at Teeters Field in Kellogg, Idaho with a screen pass from Ty Ketchum to Jeremiah Big Spring, but the football popped into the air and was grabbed by Logger Jordan Gragert. Libby did not waste any time getting on the board as junior Joel Fuller connected with Jeff Miller on a 26-yard pass to go up 7-0. His longest touchdown was a 65 yard score to Zach Rowan.
The Wildcats found themselves in a hole within seven seconds into their season-opening matchup with Libby that they could not dig out of as they fell 53-20.
The Logger duo connected on the second play of their next drive, this time a 35-yard hookup to go up 13-0 seven minutes into the game.
"They had some outstanding defensive plays, but also had others when the team went through the motions," Kellogg coach Alan Williams said. "You just can't do that against a team like Libby."
Kellogg caught a break as the Wildcats recovered a fumble on the 31-yard line and got on the board thanks to a 16-yard run by Cole Lewis to pull within 13-7.
Libby scored the next 19 points, forcing three turnovers before the half and adding another touchdown on a 65-yard pass from Fuller to Zach Rowan to move up 33-14.
"It was a typical first game," Libby coach Neil Fuller said. "Kellogg has some good kids and gave us all we could handle. Our line did a nice job. Kellogg brought a lot of pressure tonight."
Jeremy Chumley, a tailback, completed two passes in the first quarter, and he ran 12 times for 109 yards. Fuller connected with Loran Nelson for two touchdowns in the second quarter and he found Conner Benson for a 42-yard touchdown.
Rowan, a senior free safety, returned a fourth-quarter pick 60 yards for the final score.
Fuller found Loren Nelson on a pair of fourth-quarter touchdowns to give the Loggers a 46-14 lead. Kellogg got on the board for the final time on a blocked punt by Big Spring, which was recovered in the end zone by Jacob Norris to get the Wildcats within a 46-20 score.
Libby travels to Frenchtown in their next game on Friday, Aug. 31 at 7 p.m.
Libby 13 14 19 7 —53
Kellogg 7 0 7 6 —20
L - Jeremy Chumley 20 pass from Joel Fuller (Zach Rowan kick)
L - Chumley 35 pass from Fuller (kick failed)
K - Johnson 15 run (Anderson kick)
L - Chumley 35 run (Rowan kick)
L - Conner Benson 42 pass from Fuller (Rowan kick)
L - Rowan 65 pass from Fuller (kick failed)
K - Johnson 7 run (Anderson kick)
L - Loran Nelson 11 pass from Fuller (kick failed)
L - Nelson 28 pass from Fuller (Rowan kick)
K - Thompson blocked punt recovered in end zone (kick failed)
L - Rowan 60 interception return (TJ Benson kick)
---