Loggers are ready for some football!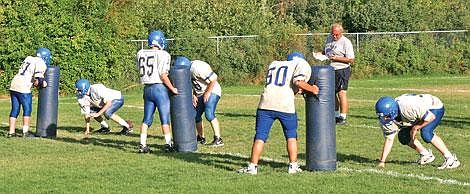 Loggers are ready for some football!
|
August 24, 2007 12:00 AM
A swarm of blue and white padded uniforms and helmeted heads went through the football practice drills with a lot more energy and a lot less sweat as the temperature in Libby cooled down this past week.
Libby High School's Head Coach, Neil Fuller is optimistic about the 2007 football season.
"Sure we lost a couple of good players, but that happens almost every year and the young kids step in and fill those shoes. Libby has always made it to the playoffs, twice to the quarter-finals and twice to the semi-finals and there is no reason to think we won't be there again this year. The team has worked hard this summer, in spite of the heat and they have put in a lot of hours."
"Craig Rowan's defensive line-up has more speed and they will be putting a lot of pressure on the opposing teams."
"Joel Fuller, a sophomore quarter-back last year is returning with that year of experience under his belt and our offensive team is stronger."
The first four games are non-conference and the team is looking forward to those opportunities to fine-tune their game.
The Loggers play Kellogg, Idaho's Wildcats on Saturday, Aug. 25.
Let the games begin!
---