Roy E. Grush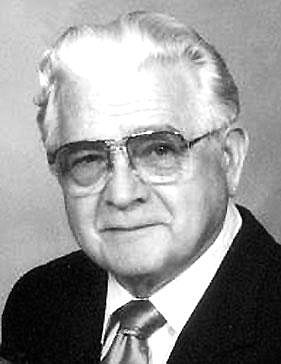 |
August 17, 2007 12:00 AM
Roy Eugune Grush, 86, of Vancouver, Wash. died at his home in Vancouver on June 2, 2007.
He was born in Troy on Feb. 6, 1921 to Eugene Regis Grush and Ruth Emily (Larson) Grush. He was preceded in death by both of his parents and a son-in-law, Gregory Fox, of Huntington Beach, Calif.
Roy graduated from Troy High School as valedictorian of his class in 1939. While a sophomore at the University of Idaho in Moscow, majoring in chemical engineering, he enlisted in the Army during WWII. He was sent by the Armed Services to the University of Minnesota in Minneapolis for 12 months in mechanical engineering and from there to the University of Nebraska for 10 months.
His next assignment was to the Pacific Theater in the U.S. Army Marine Division. At the end of WWII he returned to his parents' home at Sylvanite, Mont.
He and Lillian Laurier of San Francisco, Calif. were married in St. Joseph's Catholic Church in Libby. Roy returned to the University of Idaho and graduated in 1948. He then went to work for Westinghouse in Pittsburgh and Philadelphia, Pa. and Kansas City, Mo. He designed parts used in early rockets in the Gemini and Apollo Space Programs.
After moving to Sacremento, Calif. he joined Aerojet General in a management position. He returned to Westinghouse at Richland, Wash. and upon retirement, moved to Vancouver, Wash. in 1991.
He had numerous creative interests, building canoes, kayaks, furniture and as a wood carver of animals and people. He and Lillian traveled to many countries - Europe, Canada, Mexico, Asia, Ireland and the state of Hawaii.
He was a devoted son, husband, father, grandfather, brother, member of his church and friend. He is survived by his wife of 60 years; daughter, Cyndie Meyer and her husband Gene; their daughters Lillie and Alyssa of Vancouver, Wash.; daughter Judith Fox and her daughter Jennifer of Vancouver, Wash.; son Allen Grush of Eugene, Ore.; his son Aaron Grush and daughter of Sacremento, Calif.; and sister Ruth Grush Turner of Sylvanite, Mont.
He brought a special light into the lives of all who were fortunate to know him. He will be deeply missed.
---