Ignite the Nites lights up the Gut starting Friday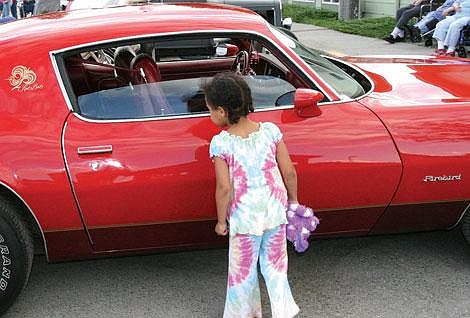 Ignite the Nites lights up the Gut starting Friday
|
August 17, 2007 12:00 AM
Cruising with power
By KYLE McCLELLAN The Western News
The Gut is about to be cruised in a way no bored teenager could ever achieve.
Road crews are sweeping and cleaning Libby's most heavily driven avenue to prepare for the multi-state (and multi-country) car fest that is known officially as Ignite the Nites.
Unofficially, the flaming-exhaust and rubber-burning party will light the sky and tarnish the pavement in front of thousands Friday.
Each car show further establishes the dominance displayed by the Igniters Car Club's loudest and brightest display.
No other local event draws such crowds, money and flashiness to downtown.
Igniters President Terry Watson said the event gets bigger every year.
"There's going to be a lot of money rolling up and down Mineral Avenue and I don't mean in peoples' pockets," Watson said.
The show's featured attractions began surfacing Thursday. They come from California, Washington, Oregon, Idaho and Canada.
They include old T-Buckets, monster trucks, motorcycles and even new sport imports.
Watson expects up to 250 cars and trucks, some worth $80,000 and most worth more than $40,000.
With all the fuel flowing through high-horsepower engines, Igniters representatives will be stationed at each intersection to put the brakes on any testosterone-induced acts of aggression.
Watson said the charged atmosphere has never resulted in any memorable bad behavior but drivers will nonetheless have only two "strikes" before they are out of the show.
In this case, two stickers on the drivers' windshields represent the strikes. If someone gets out of hand, a sticker is removed.
Watson said the club is striving to keep the show's injury-free streak going strong, especially after a drag-racing disaster in Tennessee earlier this summer put the issue at the forefront of everyone's attention.
In June, a pro drag racer there lost control of his vehicle during a burnout and crashed into a crowd lining the road. Six people were killed and more than 18 injured in the accident.
But good behavior shouldn't be a problem. The example has been set from the top as Watson and the Igniters extended a hardy welcome last year to sport imports enthusiasts by creating a new class in which they could compete.
The inclusive atmosphere ensures no hard feelings between classic American auto enthusiasts and their counterparts in the import category.
Of course, there will be jostling, but good-natured jostling.
"We want everyone to come. Ford and Chevy guys tease each other. And we'll tease those guys. But that's all part of it."
The cruising begins Friday at 6 p.m. The neon and flame-throwing contest starts around 10 p.m.
On Saturday, Watson wants the public to dance the night away from 9 p.m. to 1 a.m. at the Memorial Center with "The Reflections", a Bellingham Wash.-based band.
For more information, visit IgnitersCarClub.com.
---