"Crazy" Wildman tests physical, mental tenacity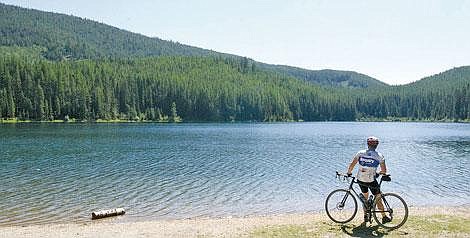 "Crazy" Wildman tests physical, mental tenacity
|
August 10, 2007 12:00 AM
BY KYLE McCLELLAN The Western News
There's something about endurance events designed by Libby natives.
They teach you something you could never learn from second-hand sources, or from reading about it on paper or even from witnessing it.
That "it" is a newfound sense of perspective, the perspective found only after wringing yourself through a torture machine and emerging alive, emerging in a better state than you were.
Susie and Greg Rice's STOKR bike ride punishes riders for 98-miles in one day, 98 miles of valleys, mountains and endless highway. Knees never expect to pedal that far, the mind never expects to maintain kinetic concentration that long.
But, when it's all over and the "I can'ts" transform into "I dids," the consciousness gains an elevated view of all matter - the trees, the rock, the water, the heat and all the creatures that whirled by in a blur.
In the same way, those who undertake the Backcountry Wildman Triathlon on Saturday, Aug. 11, will surely emerge from the seven-to-11-hour ordeal in an enlightened heap.
Like STOKR, the Wildman will test the reserve of its contestants. Like STOKR, the Wildman will offer scenic beauty to offset the pain of endurance, and like STOKR, contestants will strive for first place to gain something other than a tangible prize.
What is the Wildman in words?
"Extremely hard, crazy, stupid, nothing real good," said organizer Roby Bowe. It's a foreboding sign for other contestants, considering Bowe himself embodies the toughness of the race.
As a Sheriff's Lieutenant and David Thompson Search and Rescue member, he has chased a fugitive through eight miles of Pipe Creek wilderness snow, rescued hikers in the rocky hills above Leigh Lake, rescued a hiker pinned under a tree near Cedar Lake, saved seven mules that fell 120 feet down a cliff and delved into rugged terrain too many times to remember.
He takes his mules deep into the Cabinets to pack hay, sleeps on the forest ground during the dead of winter in only a sleeping bag and he regularly leads his kids and dogs up the demoralizing slope of Mt. McKay.
He has learned not to give his wife a time frame for him to return at night.
"She doesn't expect me home all nights," he laughed.
In stats, his Wildman sounds interesting, if not enthralling.
Sixty-two miles on bike, 10,000 total vertical feet on foot and 1,000 meters through Howard Lake by swim stroke.
In reality, it must be surreal.
"It was the hardest I've ever mentally pushed myself," said 22-year-old Kyle Forbes, who won the race last year. "It's like climbing Everest, climbing another not-so-steep mountain and then swimming."
The hardest part for Forbes was entering the water.
"The body just likes to freeze when you jump off a bike and into an alpine lake."
On Aug. 11, participants launch from the Libby Chamber of Commerce and take Highway 2 west until Bear Creek Road, which guides them to the foot of Mt. McKay - a 2,500-foot ascent in less than a mile.
The climb's relatively short distance belies its severity. In peak condition, a climber can conquer the mountain in fewer than 40 minutes. Usually, though, it's done in almost an hour.
After a tricky McKay descent, racers retrace to Bear Creek Road and continue to Great Northern Mountain, but not before the swim.
Then, it's back to Highway 2 via Libby Creek Road. The race ends where it began, in the heart of Libby 27 miles away.
Bowe said up to 50 volunteers will be stationed at McKay and Howard Lake. Racers are coming from Bonners Ferry, Idaho, Coeur D'Alene, Idaho and California.
After the race, Forbes said the exhaustion manifests itself mentally. A few days later, the physical soreness catches up.
It's "a hell of a race for anyone looking for the ultimate physical, emotional and mental challenge," Forbes said.
And anyone looking for a refreshed perspective.
"If you do it," Forbes said, "you can do anything you put your mind to."
For more information or to register, visit BackCountryWildman.com, or contact the Lincoln County Sheriff's Office at 293-4112
---