Joseph Fennessy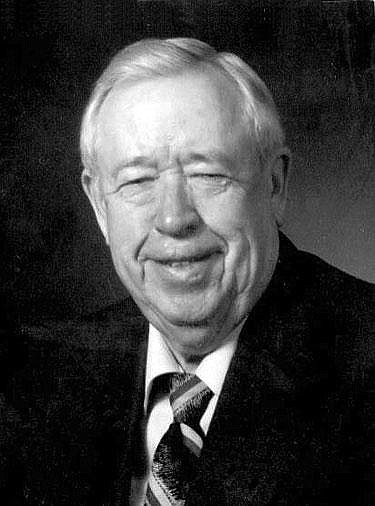 |
April 20, 2007 12:00 AM
Joseph Francis Fennessy Jr., 90, died Wednesday, April 18, 2007, at his home in Libby surrounded by family.
Joe was born June 2, 1916, to the late Joseph Francis Sr. and Audie Marie Fennessy in Libby.
After finishing high school at 16, Joe went to Gonzaga University. He graduated with a bachelor of arts in 1938 and earned his bachelor of law degree in 1940, which was acknowledged as a Juris Doctorate degree in 1967.
Joe came home to set up a law practice for a brief period before enlisting in the Navy in June 1942 during World War II. He served until October 1945, when he was honorably discharged as Lieutenant Senior Grade. During his military tenure, Joe served on several ships, primarily in the Asiatic Pacific Area.
Before joining the military during his short return to Libby, he met his future wife, the former Dorothy Markus of Whitefish. She was a recent graduate of the University of Montana and biology teacher at Libby High School.
They married Jan. 21, 1943.
Joe's law practice spanned almost six decades. His semi-retirement years still found him at the office daily, staying in touch with his clients, friends, family and events at First National Bank and around town.
In the tradition of his father and co-founder of the bank, J. F. Fennessy Sr., the younger Fennessy served on the board of directors of First National Bank in the mid-1960s until his retirement from the board in 1988.
Joe was a member of St. Joseph Catholic Church.
He also was a charter member of the Libby Council of Knights of Columbus, a founding member of Cabinet View Country Club, and a charter member and first Exalted Ruler of the Libby Elks Lodge. Joe also was a member of Libby Chamber of Commerce, American Legion and held a 60-year pin from the Veterans of Foreign Wars.
Joe served on the Lincoln County School Board and as city attorney for Eureka, Libby and Troy at different times. He also served a term as the Lincoln County Attorney.
Joe was an active member of the Montana and Washington State and American Bar sssociations.
He was preceded in death by his wife, Dorothy, in July 1988 and his sisters Margaret Swartz and Florence Zwang.
Joe is survived by his brother, Thomas and his wife, Gerry; sons Mark and his wife, Sandy, Michael and his wife, Terri, and Matthew; grandchildren Patrick, Daniel, David, Dustin, Libby, Anna and Sarah; great-grandchildren Esmerelda and Michael; and numerous nieces and nephews.
There will be a parish vigil/visitation from 1 to 7 p.m. It will be followed by a Rosary Vigil at 7:30 on Monday, April 23, at Nelson & Vial Funeral Home in Libby.
Mass of the Resurrection will be 11 a.m. Tuesday, April 24, at St. Joseph Catholic Church concelebrated by Father Josef Perehubka and long-time family friend, Fr. Gregory Burke of Butte.
Following interment at the family gravesite, friends and family are invited to the Catholic Parish Hall for food, friends and stories.
Memorials may be made to St. Joseph Catholic Church or a charity of the giver's choice.
Funeral arrangements are under the direction of Nelson Vial Funeral Home.
---