Field spruced up for tourney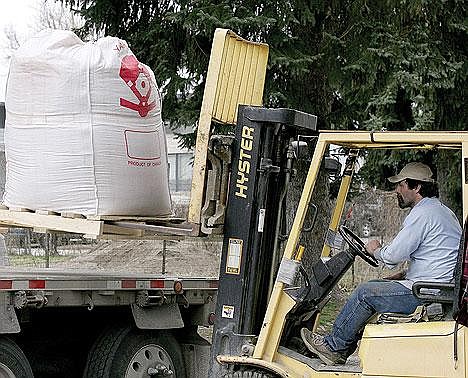 Gary Burchett of Cardinal True Value Hardware unloads a pallet of infield conditioner destined for Libby ballfields.
Libby will host its first Class A American Legion state baseball tournament this year from Aug. 1-5.
That's one reason why work continues to spruce up Lee Gehring Memorial Field off Second Street.
Construction on a new 900-square-foot clubhouse is expected to be completed for the Libby American Legion's May 1 season opener against the Glacier Twins, said Scott Foss, general manager for the Loggers.
Other recent improvements to the stadium have included new rest rooms, a new press box and improved drainage to the field to limit rain delays. A new 36- by 13-foot high-tech scoreboard donated by Coca-Cola will be in place for opening day, and Libby High School donated a reader board for announcing scheduled games.
The clubhouse, which will include umpire and player locker rooms, storage and coaches' offices, has been built primarily with donated materials and labor, Foss said.
"The support we get is phenomenal," he said. "It's a very well supported program."
That support should pay off come August.
Up to 1,000 players, coaches and fans representing eight teams are expected for the state tourney, which is a qualifier for the national tournament in Alaska, said Raymond Wayne, chairman for the American Legion Western District in Missoula.
American Legion is for players 16 to 19 years old and is often scouted by colleges and professional teams.
"If the Missoula Mavericks, Bitteroot Red Sox and Bitteroot Bucks (qualify), those teams have a following that's diehard," Raymond said. "A good bit of the parents will be in town and they naturally will need a place to stay and eat."
Also, since Libby will host the event, the Loggers automatically qualify for the state tournament.
Libby, Missoula and Kalispell applied last year to host the 2007 tournament, Raymond said. Three commissioners with the Class A Western District voted for Libby, one for Missoula and none for Kalispell.
"Most of the people felt it would be a shot in the arm for Libby," Raymond said. "I was in Libby in 2002 when they held the district tournament. If the state is as good as that one, wow."
---