New license plates available for Libby Logger fans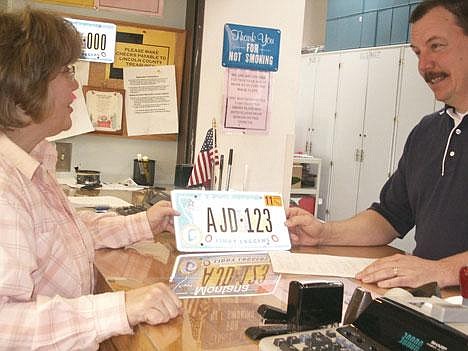 Toni Kinden, clerk with the Lincoln County Department of Motor Vehicles, sells Libby High School assistant principal Jim Germany a new Logger license plate.
By GWEN ALBERS Western News Reporter
Sixteen-year-old Charlie Berget's recently purchased 1993 Ford pickup displays a a recently purchased Libby Logger Montana license plate.
"I thought it would look cool, and I wanted to show school spirit," said Berget, a Libby sophomore football player and wrestler.
The new Montana Logger license plates went on sale about one month ago. They are available for motorists at the Bureau of Motor Vehicles office at the county courthouse.
The fee is $35 for the first year and $20 in subsequent years. For every $35 plate sold, $15 goes to the state and the balance goes to Libby High School. The $20 spent to renew plates in subsequent years will go to the high school.
"This is not going to raise tons of money, but it's a way to show Logger spirit more than a fundraiser," said LHS assistant principal Jim Germany.
The school spent $4,000 to get the program going and must sell 200 plates before making a profit, Germany said.
Profits could, for example, be used for the GREAT program, which awards students for positive behavior, he said.
"It has not been earmarked yet," Germany said.
Libby track coach Ed Tabis came up with the idea for the license plates after seeing similar plates in communities across the state.
Former high school art teacher Joan Kalay asked students to design a plate, which includes the Logger logo. LHS students then voted on their favorite design.
Inmates in the Montana prison system make the license plates.
Germany noted this will be a long-term fundraiser.
"It could take many, many years to get back the money," he said.
---