Club organizing for off-roaders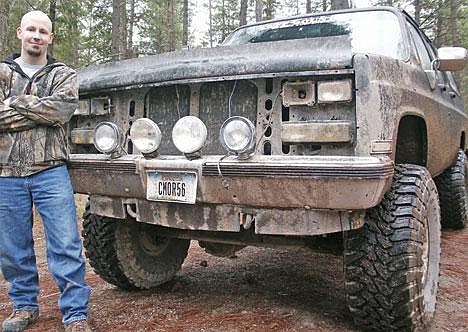 Ben Simmons stands next to his 1989 Chevy Suburban, which features a 6-inch lift kit and 37- by 14.5-inch tires. Simmons is organizing Cabinet Mountain Off-Roaders club.
By GWEN ALBERS Western News Reporter
Ben Simmons has invested a lot of time and money into his 1989 Chevy Suburban, so he's not about to destroy it while driving off road.
Simmons also has no intention of destroying what the Libby area has to offer for this type of activity.
Simmons, whose rig has a 6-inch lift kit and 37- by 14.5-inch tires that cost $280 a piece, is organizing the Cabinet Mountain Off-Roaders. Within weeks, he will schedule the club's first meeting.
Members of CMOR will work for continued access to public and private lands in an alcohol-free, family environment.
"We have so many places to explore," Simmons said.
He and his buddies currently take their souped-up rigs and all-terrain vehicles off road in the Kootenai National Forests' Bear and Cherry creek areas. They also have places they like to ride near Troy, Libby Dam and in the Fisher River area.
"I want to get a good name for the organization so maybe private landowners will open their land for us to use," Simmons said. "It seems like a lot of people like trucks and mud."
Simmons said he will be asking local businesses for support.
"We have a lot of great businesses in Libby and I would love to get them involved," he said.
Mike Willoughby, a mechanic at Cabinet Mountain Motors in Libby, is also interested in the club.
"There's not a whole lot to do in the area and (it would be nice) just to get out on weekends," said Willoughby, who drives a Yamaha Big Bear all-terrain vehicle. "We're looking for a more creative way to do something. We're looking for a positive way toward using the environment instead of abusing it."
Members of CMOR also hope to get involved in community activities, include local festival parades.
Anyone looking for more information should call 293-3718.
---