Elk banquet raises near-record $40,000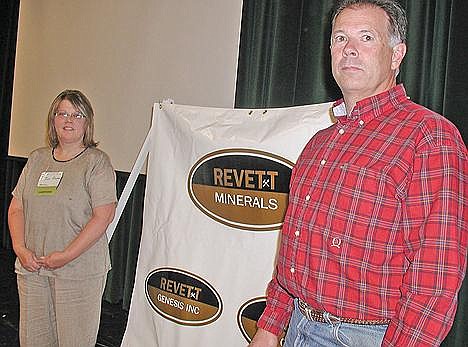 Doug Miller, general manager for Revett's mine in Troy, is recognized for his company's contribution to the Rocky Mountain Elk Foundation as Toni Kinden, chairwoman for the foundation's Lincoln County chapter, looks on.
|
September 30, 2006 12:00 AM
By GWEN ALBERS Western News Reporter
The Lincoln County chapter of the Rocky Mountain Elk Foundation raised a near-record $40,000 with this year's banquet.
Part of that came from substantial contributions by mining companies in Libby and Troy.
"This was probably one of the highest of any banquets we've had in Lincoln County," said Kirk Murphy, regional director for the foundation, who covers western and central Montana from Polson.
"I really think the community came out this year," added Toni Kinden, chairwoman for the local chapter. "Between the mining companies and support of the community, I think we had an outstanding year."
Revett Silver, which operates the Troy Mine, and Mines Management, which hopes to reopen the Montanore Mine along Libby Creek, were recognized for their contributions during the banquet at the Memorial Center. More than 230 guests attended.
Revett contributed $3,000 to the foundation, making the Spokane Valley, Wash., company a Habitat Partner. Revett also has discussed providing 250 acres in conservation easements.
"Nothing has been finalized," Murphy said. "At this point, they have said they have some property and they would like to discuss easements with us."
By doing so, the landowner gives up development rights so habitat can be maintained for elk.
Revett employs about 160 at the Troy copper and silver mine near Noxon. Revett also is working on getting permits for the proposed nearby Rock Creek mine, which is expected to create 250 to 300 jobs paying around $40,000 a year.
Mines Management gave $500 to become a Legacy Partner.
The "Legacy" is a new category that requires contributors to give at least $500. Once the contributor accumulates contributions of at least $2,500, he moves up to the higher, Habitat level, Murphy said.
"Legacy was a way for us to recognize a lot of folks giving on an accumulative level. I think it encourages giving," he said.
"If they hit $2,500, they become a Habitat Partner."
Mines Management of Spokane, Wash., by 2008 expects to develop a $400 million mine in the Cabinet Mountain Wilderness. Some 250 to 300 permanent employees will operate the mine for an expected 15 to 20 years. Jobs will pay $40,000 to $50,000 a year.
Money during foundation banquets is raised by guests bidding on donated items. The evening included several raffles, live and silent auctions, and bingo.
"I think it was a tremendous banquet," Murphy added. "We got good support from the folks in Libby, Troy and Eureka."
The Rocky Mountain Elk Foundation is an international organization founded in 1984 in Troy. Its mission is to ensure the future of elk, other wildlife and their habitat. The foundation has conserved and enhanced four million acres thanks to volunteers, members, supporters and partners.
At the end of 2004, RMEF had completed 4,357 conservation and education projects across 48 states and eight provinces.
---