Pablo man wins Demo Derby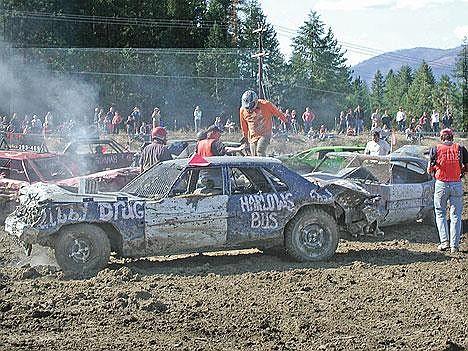 Tony Adams Jr. of Pablo stands on the hood of his 1973 Chevrolet Impala after winning the $1,000 grand prize in Sunday's Kootenai Kiwanis Demolition Derby. Eric Dodge of Libby won $500 for second driving the Libby Drug-Harlow's Bus car, foreground. (Photo by Gwen Albers)
|
September 20, 2006 12:00 AM
By GWEN ALBERS Western News Reporter
An extra battery gave Tony Adams Jr. the extra charge to win the $1,000 grand prize in the Kootenai Kiwanis Demolition Derby in Libby on Sunday.
After stalling in the final seconds of the main event before about 1,000 spectators, Adams switched to a second battery to restart his car. In doing so, the 21-year-old from Pablo defeated the only remaining competitor - Libby's Eric Dodge, whose car also had quit running.
"I feel really excited," said Adams, who paid $25 for his 1973 Chevrolet Impala and spent $400 to get it ready for the derby. "It's a good Chevy product. It has a nice engine in it and I had a bunch of good mechanics."
It was the fourth time in five years that Adams won the main event during a demolition derby. A detention officer for Flathead Tribal Law and Order, he also took top honors at Sanders County Fair, Pioneer Days in Ronan and the Figure 8 Derby at Mission Valley Speedway in Pablo.
Adams, whose car took a lot of hits in the finale, placed third in the earlier heat race.
Also from the main event, Eric Dodge took second for a $500 prize. He placed third in his heat event.
Byron O'Bleness of Libby won $250 for third in the main event after placing second in his heat event.
Twenty-eight cars were entered.
For Libby's Chris Smith, a second-place finish in the Herby Derby seemed like a proper burial for her 1983 Subaru station wagon.
Smith, 34, ran the car in the derby for four years. In 2003 and 2005 she took first place with the car in the Herby Derby. The car's front axle broke in 2004.
Employed at Pioneer Auto & Wrecking in Libby, Smith already has a car lined up for next year. It's another 1983 Subaru station wagon.
Smith enjoys the excitement of driving in derbies.
"It's so much fun," she said. "You can wreck your car, do it legally and make some money."
"And she's got a lead foot," added her brother, Don Smith.
The derby also was a good day for Brandon Regehr, who a little over two months ago suffered second- and third-degree burns on his arms, stomach and chest while preparing a 1965 Chrysler Imperial for a derby.
Regehr was using a torch to cut a gas tank out of the car. A leak from the tank triggered a fire.
The logger from Naples, Idaho, was hospitalized for six weeks at Harborview Medical Center in Seattle.
The accident didn't stop him from competing. Regehr, 27, returned last week by running the derby in Bonners Ferry. On Sunday, he won his heat in Libby and finished in about the middle of the pack for the main event.
Regehr's dad, Gary, had no worries about his son returning to demolition derby competition.
"You can't stop us, we're Regehrs," Gary Regehr said. "He loves doing it and he's out there to have fun. It makes me proud."
---