Author pens tribute to fallen comrades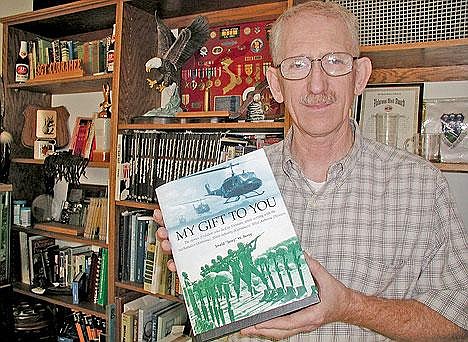 Jerry Berry of Libby holds his new book, "My Gift to You." It tells the stories of 152 soldiers who died in Vietnam while serving with the 3rd Battalion, 506th Infantry, 101st Airborne Division. Berry served in the same unit.
|
September 8, 2006 12:00 AM
By GWEN ALBERS Western News Reporter
It took Rose Brown 32 years to find out how her husband died in Vietnam.
It took Libby author Jerry Berry's new book to give the Pennsylvania woman closure.
A Vietnam veteran, Berry over the summer released his self-published book, "My Gift to You." It tells the stories of the 152 soldiers, like Rose Brown's husband, who died in Vietnam while serving with the 3rd Battalion, 506th Infantry, 101st Airborne Division.
Berry, who also served in the unit, was the battalion's first public information officer. As a reporter and photographer, he chronicled the battalion's tour in South Vietnam from October 1967 to October 1968.
After Berry was wounded in 1968, he came home with a pile of photographs, newspaper stories, field interview notes and a diary. These were some of the sources for his 430-page book, in which he included the story about the death of Brown's husband, SP4 Leslie Halasz Sabo Jr.
During combat on May 10, 1970, in Cambodia, a wounded Sabo had jumped on a fallen soldier to protect the soldier from a grenade. Sabo then killed two enemy soldiers before dying while fighting off more soldiers.
News of his death devastated Brown, who had married Sabo nine months earlier.
She buried him on her 21st birthday. That same day Brown received a dozen red roses from Sabo.
"I never could get involved with anyone. I couldn't give my whole heart," said Brown, whose second marriage ended in divorce. "I loved him (Leslie) more than life itself."
Brown this summer received a copy of the book during the battalion's reunion.
"It's pretty awesome," the 57-year-old said.
As a reporter and photographer with the battalion, Berry traveled with each rifle company.
"My job was to take pictures and document things," he said. "I would send the information about the troopers back to their hometown papers."
"He had to use his rifle as well as his camera," added Donna Berry, who is Jerry's wife and co-author of the book.
Leaving Vietnam behind wasn't easy for Berry.
"Every day you think about the guys that didn't make it. You want to let their families know what happened to their sons," said Berry, who spent 31 years with the U.S. Forest Service, retiring as a state wildlife biologist in 1997.
That's one of the reasons he began writing "My Gift to You" 3 1/2 years ago.
"It wasn't the right time back then, there was so much hurt and animosity," Berry said. "Most had a story to tell. The goal here is to tell the story."
He focused on the soldiers known as the Currahees who served in Vietnam from the fall of 1967 to May 1971. In the book, Berry gives details on how each was killed, where and when; comments from family and friends; biographies; survivors; where their names can be found on the Vietnam Memorial Wall in Washington, D.C.; and photos.
Candy Sullins appreciated the book. Its details finally provided her with the information behind her husband's death on May 10, 1970.
"I always wondered all those years," said Sullins, who lives in Muskegon, Mich. "It gave me more understanding of life over there. It was very comforting."
SP4 Ernest Lawrence Moore, a 21-year-old from Spring Lake, Mich., was firing at the enemy when he was mortally wounded in Cambodia.
Sullins, who was 19 when her husband of 11 months died, read the entire book and thanks the Berrys.
"I think both him and his wife are awesome. I can't say enough good about them," the 56-year-old said.
Although she remarried and divorced, Sullins still mourns her first husband.
"Many times, I had dreams he came back," she said.
"My Gift to You" is available online at www.currahee.org and at Cabinet Books and Music on Mineral Avenue in Libby.
---