State timber policy criticized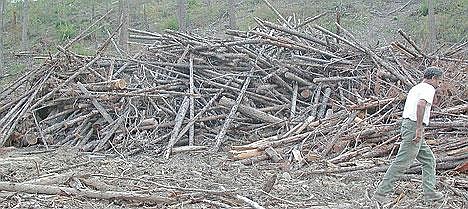 Cesar Hernandez inspects a slash pile left after a state timber sale in the Taylor Peak area.
|
September 1, 2006 12:00 AM
By GWEN ALBERS Western News Reporter
The state attempts to put the remains from timber sales to good use, including by selling it as firewood to the public.
A local environmentalist claims, however, the state needs better policies to make the wood available.
"The people have to be able to access it," said Cesar Hernandez, a board member with Cabinet Resource Group.
Hernandez was referring to Douglas fir and larch left behind in large slash piles from the Taylor Peak Timber Sale off Bull Lake Road. The 640-acre area 12 miles south of Troy was logged last fall and winter.
The state has a mid-November deadline to get rid of the piles, which are equal to about 1,000 cords of wood, said John Shotzberger, Libby unit manager for the Montana Department of Natural Resources and Conservation. What's left after the deadline will be torched, depending on burning conditions, Shotzberger said.
The DNRC is issuing firewood permits for collection. People can get a maximum of two chords at a cost of $5 each. Cords around Libby sell for $60 to $80.
"We have encouraged the public to come and use these piles from last December until now," Shotzberger said.
Not all slash piles are available for firewood.
Hernandez claims some of the piles that are available don't have the best firewood, and others are difficult to access.
"There's a lot of old people who don't want to climb up on that stuff," he said.
Hernandez also doesn't agree with the need for the mid-November burning deadline.
"You think they could leave these piles and burn next fall," he said.
Shotzberger said the slash piles need removed to plant new trees in the spring. The DNRC has only a few days in November in which it can legally burn.
"After that we can't burn for another year," he said.
Hernandez also claims burning slash piles would sterilize the soils underneath.
The firewood available to the public right now is closer to the road than the piles not available, Shotzberger said. The remaining slash piles will be made available after the purchaser of the timber completes the road work.
"If they clean it up, all that stuff will be available. It will be open for others," he said. "I want to utilize as much as possible, but clean it up along the highway first."
The Taylor Peak timber sale brought in $3 million for school districts around the state.
The state also attempts to sell wood from slash piles to commercial firms, Shotzberger said.
"If somebody out there has a way they can use this (leftover wood) commercially, we'd be very, very glad to use this for the schools," he said.
As a board member with Cabinet Resource Group, Hernandez wrote a letter to Gov. Brian Schweitzer over his concerns.
CRG formed in 1976 when people concerned with the fate of the Kootenai River, Scotchman's Peak proposed wilderness, Cabinet Mountains Wilderness and the Yaak Valley came together to protect these natural resources. Since then, members of CRG have participated in countless struggles to preserve wild places and promote sensible management of National Forest Lands.
To purchase a firewood permit, call the DNRC at 293-2711.
---