Seven-year-old meets challenges to start school year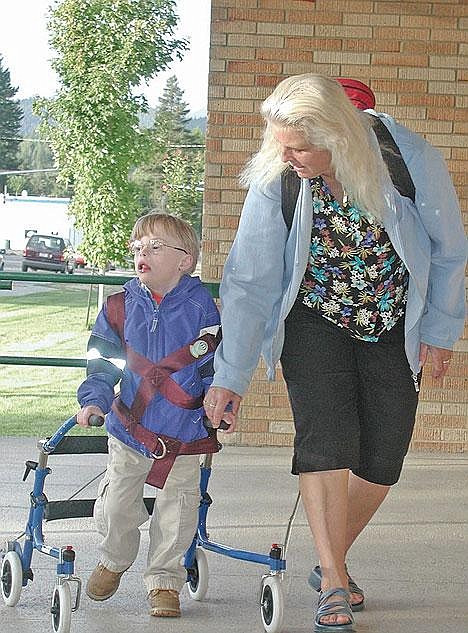 Georgina Woody, a student assistant for Libby Public Schools, walks alongside Luke Weber as the 7-year-old heads for Asa Wood Elementary on the first day of school. Born with Down Syndrome as well as three months premature, Luke has showed tremendous progress with his walking.
|
September 1, 2006 12:00 AM
By GWEN ALBERS Western News Reporter
Libby teacher Sandy Elmore had to fight back her tears on Wednesday.
It was the first day of school, and she was simply amazed as she watched 7-year-old Luke Weber walk down the hallway at Asa Wood Elementary.
Four years ago, Luke couldn't sit up let alone walk.
"I can't believe he's come so far," said Elmore, an early intervention preschool teacher with Libby Public Schools. "When Luke first came to preschool (at Asa Wood), he had to be carried and had to have adult support just to sit on the carpet."
Luke was born with Down Syndrome, a common genetic variation that usually causes delay in physical, intellectual and language development. His three-month premature birth seriously complicated matters.
Since he was six months old, Luke has worked with local physical therapist Els O'Rourke to learn how to roll, sit, balance his head, crawl and eventually get around with a walker.
"The things we take for granted were hard for him," O'Rourke said. "Some people take 10 times to learn things, and Luke has to do it 1,000 times to learn it."
On Wednesday, Luke took the school bus from his home to Asa Wood. He stepped off with student assistant Georgina Woody holding his hand. Luke then walked into the school using his four-wheel walker before heading down the long hallway to his classroom.
O'Rourke, along with teachers like Elmore and Luke's parents, Jayson and Anne Weber, hope and remain optimistic that one day Luke will walk on his own.
"He's made great, great gains," said O'Rourke, who continues working with Luke twice a week.
A lack of muscle tone and balance has made walking difficult for Luke. Most kids with Down Syndrome learn to walk at age 3 or 4. Luke learned to crawl at age 3 and started walking between 4 and 5, said Jayson Weber. Luke could walk 200 to 300 feet by holding someone's hand.
"He's just gained more endurance," said Weber, a water operator for the city of Libby. "I think walking is a tough physical challenge; he has to put up so much to walk. I think he will always have a will. Everything we've tried with Luke, he's progressed."
Anne Weber noted her son can be fairly independent with his walker. The only way for him to learn something is to do it "hundreds and hundreds of times."
"His brain understands the patterns of taking steps, so his body can do it. It's just a matter of endurance and balance," said Weber, who works for the Forest Service.
Jayson and Anne Weber appreciate the care there son has received from doctors in Spokane and the people in Libby.
"In the beginning, my husband and I felt like we needed to be in a bigger community with more resources," Anne Weber said. "It's pretty priceless what we have here with community support, and the pace of life is slow and simple. People take the time out of their day to say 'hi' to him."
"It really takes a community to raise a kid like Luke," she added.
---