Troy lands $70K donation for new wildlife museum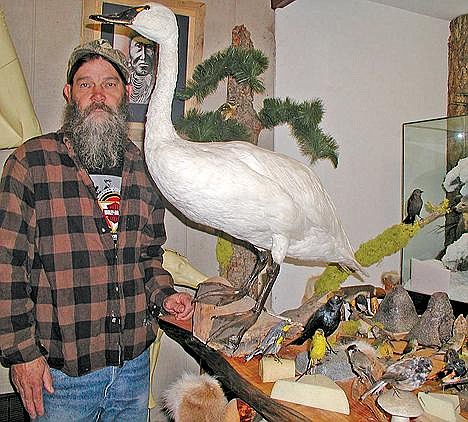 Al Schad, owner of Schad Brothers Taxidermy near Troy, stands next to some of the birds he will donate to Troy's wildlife museum.
|
October 27, 2006 12:00 AM
By GWEN ALBERS Western News Reporter
Troy has received an anonymous $70,000 donation to build a wildlife museum in Roosevelt Park.
News of the funding pleases Troy taxidermist Al Schad, who plans to donate his time to mount animals and birds for the interpretive center.
"It has been a dream for a long time," Schad said. "It's for the kids."
In addition, Montana Fish Wildlife and Parks plans to donate a more than 300-pound cinnamon-colored black bear and a mountain lion for mounts at the museum. Both were legally shot by local livestock owners, said Jon Obst, FWP game warden for Libby and Troy.
Word of the $70,000 donation was announced during the Sept. 27 city council meeting, said Troy Mayor Jim Hammons.
"It was pretty exciting," Hammons said. "Those people are very generous and have done a lot of things in the park."
00020000058E000003F5588,The museum may be built near the park's fishing pond. Hammons hopes construction can begin in the spring. The city is considering applying for grants for additional funding.
"We haven't really decided actually," he said. "Everything is preliminary."
Obst credits Schad, owner of Schad Brothers Taxidermy on Milnor Lake Road, for suggesting the interpretative center.
"We were sitting around talking and he said 'in Idaho, they have a big metal building with something similar to this.' He was wondering why we didn't have anything like that here," Obst said.
Obst then spoke with Hammons.
"Troy has a we-can-do-it attitude that gets things done," Obst said. "We figured out how much it would cost and then we got this big donation to do it. This will really be great."
FWP would like to donate animals killed on the road, killed illegally and that die of natural causes. Schad is willing to do mounts of these animals.
"Al can do the work, but the material and stuff is what costs," Obst said. "That's where it would be nice if sportsmen's groups or community people can, in a sense, pay for the mounting. Not his labor and time (just materials)."
Schad has several ideas for displays.
"I've got all kinds of song birds, a swan and a big horn sheep," he said. "I'm interested in doing more of the bigger stuff and will do more song birds, hawks and owls."
He also hopes to feature display cases, skulls and hides.
---