Good hunting anticipated in NW Montana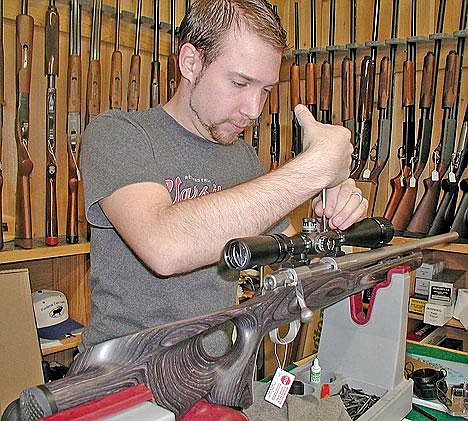 Will Winkler, a sales clerk at Libby Sports Center, mounts a scope on a Howa .22-250 rifle. (Photo by Gwen Albers)
|
October 13, 2006 12:00 AM
By GWEN ALBERS Western News Reporter
Troy's Andy Tunison this fall has already killed four does with his bow and an antelope with his rifle.
Now, Tunison is gearing up for the Oct. 22 opening of Montana's five-week general deer and elk season.
"I live to hunt," the 33-year-old said.
Tunison, who plans to hunt in Lincoln County, can take a white-tailed buck any day throughout the season. During the first two weeks and final four days of the season, he can harvest a doe or a fawn.
In addition, Montana Department of Fish Wildlife and Parks issued 1,300 B licenses for local hunting districts 100, 101, 103 and 104. The licenses allow hunters to take a doe any day throughout the season.
Hunting District 100 was allocated 500 B licenses. The 1,414-square-mile district borders Idaho to the west, Canada to the north, Lake Koocanusa and the Kootenai River.
Hunting District 101, east of Lake Koocanusa and north of Cripple Horse Creek, was allocated 400 B licenses.
Hunting Districts 103 and 104 were each allocated 200 B licenses. The 900-square-mile District 103 encompasses primarily Wolf Creek and Fisher River drainage east of Libby. District 104 includes 650 square miles primarily in the Cabinet Mountains Wilderness to the Sanders County line.
Jerry Brown, wildlife management biologist with FWP in Libby, says hunters are in for a good year for white-tailed deer.
"They can expect fairly good numbers compared with several years ago," Brown said. "We had a severe winter in the mid-1990s. It was really devastating to most of the big game populations. Around Libby we lost about 50 percent (of the game). It was a little worse in some areas."
Recent milder winters have allowed the moose and deer population to rebound, Brown said.
He also has seen improvement in bucks since 1997.
"What hunters are primarily looking for are bucks from 4 to 8 (years old)," Brown said. "There are more of those each year."
Tunison agrees.
"I've seen some pretty good bucks, some four- and five-points with 18- to 19-inch spreads," he said. "I've seen more big bucks than I have seen in the last 10 years, since the winter of 1996-97."
Weather, however, can affect deer hunting.
"As the weather goes, so goes the hunt," Brown said. "If we get good weather conditions and start to get a fall snow and cooler wet weather, the hunting is good. If it stays dry and warm, it gets difficult. The deer don't move as much."
He expects that local favorite hunting areas will include Fisher River and Wolf Creek.
"They're local and have a high road density, and it's a good deer producing area," Brown said. "People have hunted their for decades."
The Cabinets is where one is less likely to find a lot of hunters.
"There's no roads, less access and it's more remote," he said.
Hunters are reminded to stop at FWP check stations they pass. It's the law.
Locally, the station is at Canoe Gulch Ranger Station on Highway 37 north of Libby.
"It works for people coming back into town from hunting," Brown said. "It's a mandatory check, even if you don't have a deer."
The station will be open the first eight days of the season and every weekend during the season.
Brown also reminds hunters to know the rules.
"Every hunter needs to consult hunting regulations and what is allowable in what hunting district," Brown said. "Each hunting district may have some different rules. Most are fairly similar, but take the time to read the regulations."
A busy hunting season means busy days for Ardell Filler, owner of Libby Sports Center.
"This is the busiest year I've had," said Filler, who 39 years ago co-founded the store at Highway 2 and California Avenue.
He credits the summer's expansion of his store, a good economy and newcomers to the area.
"I firmly believe it's the blessing of God on my life that the businesses is as good as it is." Filler said.
---