'Elmo' makes birthday a happy one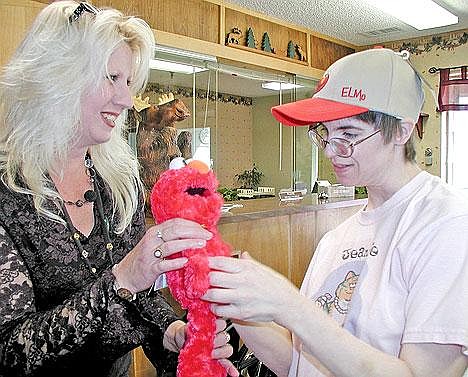 Kandis Peterson, financial resource counselor at St. John's Lutheran Hospital, hands Jeannie Richardson a stuffed Elmo. Richardson got a birthday call from Kevin Clash, who for 20 years has provided the puppet's distinctive voice. (Photo by Gwen Albers)
|
October 6, 2006 12:00 AM
By GWEN ALBERS Western News Reporter
Jeannie Richardson on Sept. 28 had her best birthday ever.
The 38-year-old, who suffers from a fatal disease that keeps her from living alone, got a call from Sesame Street's Elmo. Kevin Clash, the man behind the distinctive voice of the Emmy-award winning Muppet character, wished Richardson a "happy birthday."
"He's the Elmo you hear and see on the television show," said Theresa Anderson, post-production coordinator for Sesame Street in New York City.
"I was so excited because it was a once in a lifetime thing," Richardson said.
Doctors 12 years ago diagnosed Richardson with Huntington's disease. The hereditary disease destroys neurons in areas of the brain involved in the emotions, intellect and movement. It progresses without remission over 10 to 25 years.
The course of Huntington's is characterized by jerking uncontrollable movement of the limbs, trunk, and face; progressive loss of mental abilities; and development of psychiatric problems.
Patients ultimately are unable to care for themselves.
The disease changed Richardson's life.
She went from serving in the Navy for six years to Libby Care Center three years ago.
"It's a horrible of disease," said her grandmother, Carol Delaney of Libby. "It attacks the nervous system."
Limited in what she can do, Richardson watches Sesame Street daily on television.
Kandis Peterson, former marketing and activities director for the care center and the financial resource counselor at St. John's Lutheran Hospital, knew of Richardson's love for Elmo. So two years ago, Peterson wrote Sesame Street about Jeannie.
"I told them she has a passion for Elmo," Peterson said.
The letter was apparently misplaced when Sesame Street moved its Manhattan offices to another location. The letter was recently found.
Peterson on Richardson's birthday got a call from Sesame Street. It was Elmo.
"He sang to her and told her that he loved her, and will send her an autographed picture," Peterson said. "That was all she wanted. Elmo is close to her heart."
Clash made the call during Richardson's birthday party at the care center.
"It was great," said Delaney. "We had a little party for her and she said 'this is the best birthday I ever had.'" It meant a lot to her."
Richardson earlier this week received a stuffed Elmo, Elmo hat, DVD and notebook from the TV show.
---