Young man capitalizing on second chance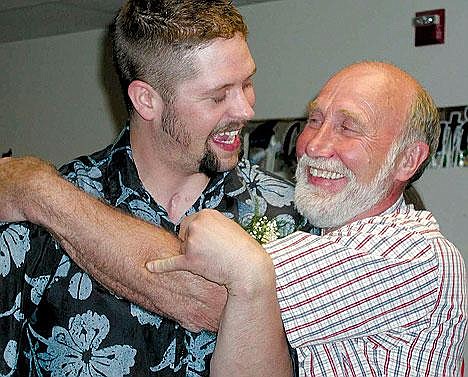 Jerry Wandler, right, an instructor for the GED high school diploma course at Flathead Valley Community College Lincoln County Campus in Libby, hugs graduate Travis Erickson.
By GWEN ALBERS Western News Reporter
Travis Erickson isn't taking his second chance at life for granted.
He's getting his education, starting with his high school diploma.
"The sky's the limit," Erickson said after receiving his GED from Flathead Valley Community College Lincoln County Campus during a May 17 ceremony.
Learning he's among the top two-third of the nation's high school graduates makes it even better.
"I wasn't expecting that," Erickson said. "That was really awesome."
The 26-year-old Libby man, who three years ago suffered crippling head injuries after his truck slammed broadside into a 36-foot recreational vehicle, also received the Inspiration Award from the class of 35.
"He has just an incredible spirit," GED instructor DeAnna Shaw-Berget said during the presentation. "I just never had a student touch me that way."
The son of Chris Erickson of Libby and Tim Erickson of San Francisco, Travis nearly died on Feb. 9, 2003, after losing control of his full-size Chevy pickup on black ice while living in California.
Emergency medical technicians didn't expect him to survive the flight to the hospital.
Doctors said he wouldn't make it through the night.
Instantly, this healthy young man went from being someone's boyfriend, a mason and a carpenter to someone who had to learn everything again. Trauma to his neck left nerve damage in addition to his severe head injuries.
"It was like I got hit so hard that my brain rattled on and off like a light switch," Erickson said. "The doctors gave me no hope."
After two months and 14 days in a coma, he began the battle of learning to feed and dress himself, stand and walk, go to the bathroom and all those everyday things taken for granted.
"When he came home, we had to do everything for him to start all over," said Chris Erickson, clerk for the City of Libby. "It's just something you do."
Still living in California with his mother, Travis Erickson went through speech and physical therapy. For a year, he's gone without a wheelchair, but still uses a walker mainly for balance.
The Ericksons in June 2004 moved back to Libby, where Travis was born.
Unable to do physical work, his mother encouraged him to get his GED. Travis Erickson dropped out of high school at age 16.
"My mother was my inspiration," he said.
The classes weren't easy.
"There was so much to comprehend," he said. "It took a long time for the math to come back. I used math every day in carpentry and mason work. It was second nature."
"But when I set a goal for myself, I don't quit," Erickson continued. "That's not in the cards."
"He had a great attitude," Shaw-Berget said. "He always knew he would accomplish this. We watched incredible growth in his speed."
Travis Erickson this fall plans to take classes at the community college. He hopes to become a counselor for drug and alcohol addicts.
"I was just so proud of him," Chris Erickson said about her son receiving the Inspiration Award. "It's not only difficult to get a GED, but to have a handicap that he has gets him mentally stressed."
After the ceremony, she hosted a graduation party at her Em Kayan Village home.
"We're really proud of him," said Jean Struck of Libby, who calls herself Travis' adopted grandmother. "He's always been a young man who would pursue something until he carried it through."
Jan Erickson of Libby is also pleased with her nephew.
"I believe he can do anything he puts his mind to," she said. "He's gone through something none of us had to go through."
During the graduation, Mabel Counts receivd the Most Improved Award and David Hake got the Perservance Award.
Other graduates were Bill Bowers, Casey Brinegar, Allen Cross, Christopher Dimond, Travis Escudero, Danel Fisher, C. Shane Gregory, Karina Varona Domblas Hancock, Robyn Hilliard, Cody Jelley, Kirby Kirkpatrick, Kara Miller, Derrick Mitchell, Sharlyn Fitchett, Wendy Noble, Tomoko Reed, Ronald Riva, Kary Robertson, Emily Sauter, Samantha Swatman and Mary Yoder.
---