Wildflower quilt sparks record benefit for KVCS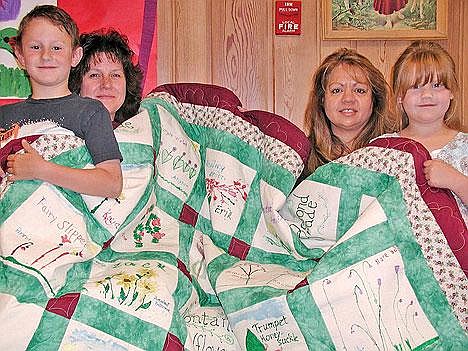 Dawn Williams, second from left, was the high bidder for a twin-size quilt during the annual Kootenai Valley Christian School fundraising auction. Her son, Stephen, and his fellow first- and second-graders helped make the quilt. Blanche Hudson, at right, sitting with her daughter, Kaylene, was the second highest bidder.
By GWEN ALBERS Western News Reporter
Two moms battled it out Saturday for a twin-size quilt their children helped make.
In the end, Dawn Williams outbid Blanche Hudson for the Montana wildflower-theme quilt and helped Kootenai Valley Christian School raise a record $12,000 for its 7th annual auction.
"My son made a square and is a wildflower fanatic," said Williams, who paid $425, but planned to bid up to $1,000. "We can't go anywhere without him seeing them along the roadside and picking them. He's a wildflower kid."
A customer service and sales representative for Adelphia Communications, Williams said her son, Stephen, was excited about getting the quilt.
"I just like wildflowers and how God made them, how they grow and how they get real tall," the 7-year-old said.
Each of the 20 first- and second-graders in Wendi Demmendaal and Lori Young's classes chose a different wildflower for the quilt. They used a book from the U.S. Forest Service to draw and paint shooting stars, glacier lilies, columbine, Indian paintbrush and more.
Hudson, who stopped bidding at $415, then pieced the squares together. Carlene Erlandson with the Kootenai Valley Quilt Club did the quilting.
Hudson hoped to buy the quilt since she and her second-grade daughter, Kaylene, helped make it. Hudson, who works for operations at First National Bank in Libby, early on didn't know Williams was bidding against her.
"We were sitting next to each other and I didn't realize I was bidding against her," Hudson said. "I wanted to bid on other things (so I stopped)."
Auction coordinator Stacey Cosgriff was pleased with the event, which had 90 bidders. Among several hundred items sold, a dinette set went for $800 and a bedroom suite for $600.
"People were just really great," Cosgriff said. "The atmosphere was very light."
The second highest amount raised during a previous auction was $9,500, said school secretary Myresa Boulware.
Proceeds will go for general operations. Tuition at the school is $2,100 annually for students in first through eighth grades.
---