Something special made for annual benefit auction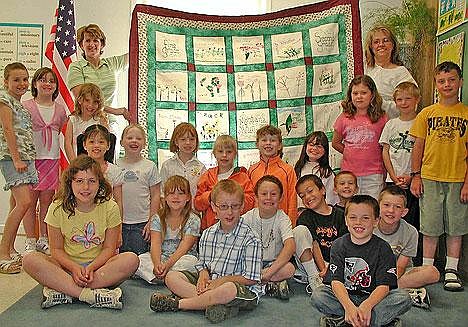 Kootenai Valley Christian School teachers, Wendi Demmendaal, back left, and Lori Young show the quilt their students made for the school's 7th annual benefit auction on Saturday, May 20. Students are, in no particular order, first-graders Anna Carlson, Trista Crame, Jared Creighton, Allyson Hubbard, Samuel Hubbard, Erik Lauer, Kristen Lindgren, Zachrie Lowry, Niklaus Neumann, Kaya Peng and Stephen Williams; and second-graders Katie Alspaw, Jonny Cielak, Celina Cole, McKenzie Cosgriff, Lilyan Feeback, Enoch Gallup, Kaylene Hudson, Haddasseh Miller and Alyssa Stark.
By GWEN ALBERS Western News Reporter
Kootenai Valley Christian School first- and second-graders did something special for this year's annual benefit auction.
They made a quilt.
"I love it," said Chloe Adamson, a member of Kootenai Valley Quilt Club in Libby, who volunteered to do the binding on the twin-size quilt. "It's something that they learned how to quilt."
The quilt will be among hundreds of items up for bid during the 10 a.m. Saturday, May 20, auction at the school, 1024 Montana Ave. Participants can submit live and silent bids on automotive supplies, hardware, household items, sporting goods, gift certificates and more.
It's the first time during the auction's 7-year history that the students made a quilt.
First-grade teacher Wendi Demmendaal came up with the idea.
"We just wanted to get the kids involved in the auction," said second-grade teacher Lori Young.
They chose Montana wildflowers for the quilt's theme. Using a book from the U.S. Forest Service, each of the 20 students chose a different flower. They included shooting stars, glacier lilies, columbine and Indian paintbrush.
Each student studied and drew their flower before painting it on a square with fabric paint. That part took about one month to complete.
Second-grader Enoch Gallup chose a mountain blue bell because he'd seen them in the mountains.
"It was hard to draw," Gallup said.
First-grader Anna Carlson went with a fairyslipper. Carlson explained that the flower is blue, white, brown and yellow.
"It took me two days to paint it," she said. "It's a nice flower."
Parent Blanche Hudson then pieced the squares together. Carlene Erlandson with the Kootenai Valley Quilt Club did the quilting.
There will be no minimum bid for the quilt.
"We're just hoping because the kids made it, it will get some interest," Demmendaal said.
---