Sylvanite School could close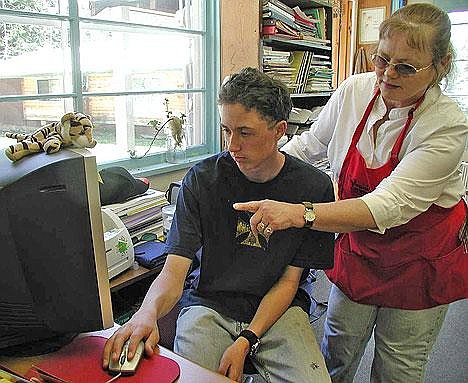 Sylvanite School teacher Susan Kretzschmar works with eighth-grader Kyle Breithaupt. Breithaupt will graduate on May 23, leaving the school 17 miles west of Yaak without any students. That means one of Montana's oldest one-room schools is likely to close.
By GWEN ALBERS Western News Reporter
In a district where school board members outnumber students by three to one, it's no wonder its days are numbered.
When Sylvanite School's only student graduates on May 23, the 109-year-old, one-room school 17 miles west of Yaak is likely to close. The only hope of remaining open depends on at least one child in kindergarten through eighth grade moving into the district by the first day of school.
Teacher Susan Kretzschmar promised the school board to stick it out until the deadline. If no one shows, Sylvanite will be classified as "non-operating."
"I feel awful for tradition's sake," said Kretzschmar, who also plans to retire from 34 years of teaching should the school close. "This is one of the oldest schools in Montana."
Sylvanite's only student, Kyle Breithaupt, invited Gov. Brian Schweitzer to speak at his graduation. Since Schweitzer had a commitment, Breithaupt will settle for Lincoln County Commissioner John Konzen of Troy.
Breithaupt, who for three years attended Sylvanite after transferring from the Yaak School, will miss Sylvanite and his teacher. From 8:20 a.m. to 3:30 p.m. daily, he has her undivided attention except for one afternoon a week. That's when they travel to McCormick School, a one-room school with 20 students where Kretzschmar teaches music and Breithaupt takes gym class, home economics and science.
"I get more help when I have questions and have more time to spend with my teacher," the 14-year-old said.
Right now, his parents drive 120 miles daily to get him to and from school. Breithaupt never misses.
The family plans to move closer to a high school, but Breithaupt is unsure where.
It costs roughly $55,000 a year to keep the school open.
"My husband laughs and says 'it would be cheaper to send a student to Harvard than the Sylvanite School,'" Kretzschmar said.
Tuition, room and board at Harvard runs $40,000 annually. Since Sylvanite is a public school, Breithaupt doesn't pay tuition.
Kretzschmar and her husband, Jerry, live in a home next to the school. Every morning, she stokes up the wood stove. Jerry Kretzschmar, the school's maintenance guy, can't help but chuckle when he thinks about the stove and computers in the same building.
"We have the 1800s and the 21st Century here," he said.
Sylvanite School can remain non-operating for three years.
"When a school loses children and they don't expect to have enrollment for the subsequent year, it goes into a windup process," said Lance Melton, executive director for Montana School Boards Association. "Over three years, if a bunch of people move in and refill the school, it doesn't shut down."
However, by the beginning of a third year without students, it's basically over, Melton said.
"The process for assigning the assets to a neighboring school district begin," he said.
As for the building, it could become a gift to the community, Melton said.
John Brown, chairman of the school board, said the former owner of a nearby lumber mill in the 1950s donated the property, materials and labor to build the current school. That was after the school 2 miles away burned down.
"I think Sylvanite has an excellent school for a small rural school," said Brown, whose two daughters attended.
The only teacher at Sylvanite for the past 5 years, Kretzschmar has taught in Montana for 13 years. She also taught in California and New York, where the Kansas native had up to 1,400 music students in one week.
"This (Sylvanite) is the best school I've taught in," said Kretzschmar, who during her first year there had 18 students. "You get to know the students almost as well as their parents."
"(But) we live so far away from town and with the price of gas, no jobs and retirees moving in . . .," she continued.
Montana has 100 school districts with fewer than nine employees, Melton said. There are 25 to 30 one-room schools remaining.
---