Middle school students present "Aladdin Jr." May 4-6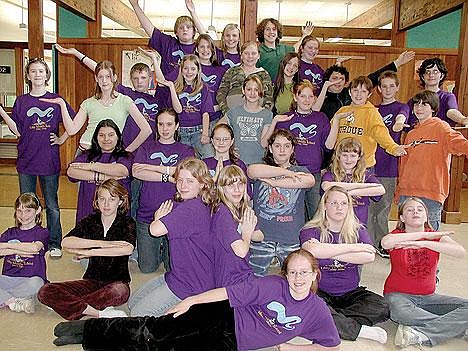 Libby Middle School students will stage "Aladdin Jr." at 7 p.m. Thursday-Saturday, May 4-6, at the Memorial Center. Tickets are $5.
Libby Middle School students are taking a whirlwind "magic carpet ride" by presenting Disney's "Aladdin Jr."
Middle school teachers Brenda Swanson, Diane Rewerts and Leslie Crooks will direct the show, which runs Thursday-Saturday, May 4-6, at 7 p.m. at the Memorial Center. The $5 tickets are available at the Memorial Center or through its website, khcenter.com; the middle school; Cabinet Books and Music; Caboose Motel; and Christian Books and Music.
In "Aladdin Jr." the resourceful young hero and wise-cracking genie come to life on stage in this adaptation of the popular animated movie.
Aladdin, played by Crawford Dinning; Jasmine, played by Aschlea Paladino, and of course, the Genie, played by Rebel Larson, have an adventure filled with magic, mayhem and flying carpet rides as they fight the evil Jafar, played by Jason Schikora.
Others in the cast are Stephen Adams, Razoul; Kaitlynn Haugen and Ashley Shaw, guards; Dusty Deans, Iago; Allie Voorhies, Magic Carpet; Katie Haas, Emma Zachreson, Ashley Neisess, Haley Kurle and Alex Blevins, narrators; Sam Poppen, Prince Baba of Ganoush; Michael Wise, Prince Dahdua; Robert Soppe, the prince formerly known as the Artist; Kaleb Wilson, Sultan; Miranda Raab, Sarah Kirshchenmann, Chancey Auge, Elissa Taylor, Sarah Boespflug and Bethany Miller, harem girls; and Alexa Witherington, Blevins, Brittanie Johnson, Taylor, Hanna Hartman, Mahalah Wedel and Jackie Kempter, ensemble.
Also included are percussionist, Louis Brossman; choreographer, Julie Wedel; costumes and prop master, Pam Haas; make-up, Brenda Auge, Stefany Kluver, Brooke Kambel, Callie Reichow and Jackie Kluver; set, Steve Lethrud and Chrys Marchant; lights, Lethrud; and scenery, Joan Kallay and students Jessica Nicholson, Allie Gilden and Brittney Larson.
Directors for the play are using the Music Theatre International production of "Aladdin Jr." MTI is a theatrical resource for educators that works with the creators of classic musicals to develop them into editions suitable for children to perform.
To celebrate Libby's involvement in the production, the school will receive a certificate signed by the creators of the musical commending the cast on its production and encouraging students to continue to embrace the arts.
For more information on the show, call 293-3600.
---