Lelm honored by quilt club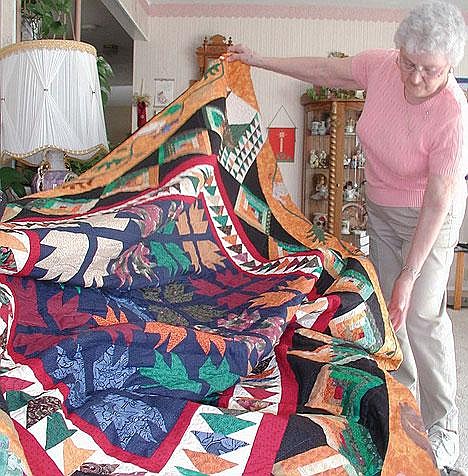 Joyce Lelm displays a quilt she made with material given to her by her five children. Lelm is the 2006 Quilter of the Year for Kootenai Valey Quilt Club in Libby. She will have a special display of her work during Nordicfest at Asa Wood Elementary School.
By GWEN ALBERS Western News Reporter
Hope Kirschenmann won't ever forget the blue floral gunny sack dress her mother made.
Kirschenmann, 41, wore the popular 1980s-style dress to school with the same pride her mother, Joyce Lelm, put into every stitch.
That same pride in workmanship has led an equally big honor for Lelm.
Kootenai Valley Quilt Club has named her the 2006 Quilter of the Year.
"She's considered one of our quiet unassuming, long-time members that has contributed so much over the years," said Jan Sanderson, club spokeswoman and last year's award winner. "She has always pitched in for any quilt guild project and has been an inspiration to us all with her exceptional use of colors and exceptional workmanship and creativity."
Lelm received a wall-hanging quilt from the club, which meets at Christ Lutheran Church. It says "Quilter of the Year."
"I was surprised," the 76-year-old said. "I just didn't figure I deserved it."
Lelm also will have a special display of her work during Nordicfest's quilt show at Asa Wood Elementary School. This year's festival runs Sept. 8-10.
A mother of five, Lelm in 1989 got into quilting after unexpectedly losing her 58-year-old husband, Lamoine, to a heart attack. They were married 38 years.
"I needed something to do," Lelm said.
She had always sewn her children's clothes, so quilting seemed like a natural thing to do.
"My girls never had ready-made clothing," said Lelm, who also took in 60 foster children over the years. At one time, the family had seven children under its roof.
"We rarely bought clothes unless I used my own money," Kirschenmann remembered.
Lelm over the years has made 40 to 45 quilts, ranging from wall-hangers to king size.
"It's different than sewing," she said. "It's more fun."
She's given quilts to her children, David Lelm, 55, of Hawaii; Claudia Mongan, 54, of Kalispell; Linda Decker, 50, of Libby; Mark Lelm, 48, of Kalispell; and Kirschenmann of Libby. Some of her 16 grandchildren and nine great-grandchildren also have received them.
She buys most of her material in Libby and Kalispell.
"If I go anyplace and I see a quilt shop, it's a must," Lelm said. "Sue Bee's is a good shop here."
When she's not quilting, Lelm attends Christ Lutheran Church, where she volunteers for Christ Kitchen's twice monthly dinners. She also volunteers at Libby Food Pantry.
Lelm's far from giving up quilting.
It's just relaxing," she said "You can be worried about something and when you quilt, it all goes away."
"She's an exceptional quilter," added Sanderson. "She donates a lot of time to the guild and her work is just spectacular. She's long overdue (for the award)."
---