Student qualifies for national conference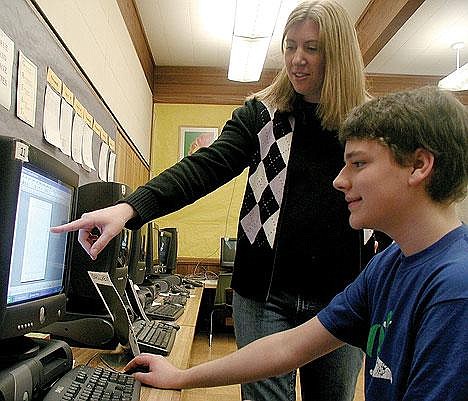 Libby High School teacher Michelle Foss watches as senior Luke Marchant works on the computer. Marchant and Foss from May 9 to 14 will join more than 5,000 people at the Business Professionals of America National Leadership Conference in Orlando, Fla. Marchant qualified for the desktop publishing competition after winning regional and state competitions in Montana.
|
March 30, 2006 11:00 PM
By GWEN ALBERS The Western News
A Libby High School senior and teacher will travel to Disney World in Orlando, Fla., May 9 to 14 for a national academic competition.
Earlier this year, Luke Marchant won the Business Professionals of America regional and state competitions to qualify for the BPA's National Leadership Conference, which includes stops at Universal Studios and Busch Gardens. It's the first time in three years a Libby student has qualified.
Libby BPA Advisor Michelle Foss, who teaches computer technology, accounting and psychology at the high school, will accompany Marchant.
The son of Chrys and Larry Marchant, he will join more than 5,000 students competing in national business skills events, workshops and general sessions. BPA is a national organization for high school, college and middle school students preparing for careers in business and information technology occupations.
Marchant, 18, will compete against 85 students in the desktop publishing division.
"I think he'll do well," Foss said. "He's got a special talent."
The trip for two, including the flight from Spokane to Orlando, will cost about $2,000. Marchant is accepting donations, and selling magazines and The Body Shop products. Anyone interested should call Foss at the school at 293-8802.
Marchant, who in the fall will study library education at University of Montana in Missoula, is no stranger to desktop publishing. A member of BPA in Libby since his freshman year, he won the regional competition that first year and placed second and third during his sophomore and junior years, respectively.Marchant in January won the desktop publishing regional competition in Kalispell for designing a flyer, brochure and RSVP card.
He defeated 47 students in the division during states in Billings on March 5-7 with a brochure on health care, an event announcement and three RSVP cards. That qualified him for nationals.
Marchant will compete on May 11 in Orlando.
"I'm really excited," said Marchant, who will be taking his first trip to Florida.
---