Dirty Shame owner makes public penance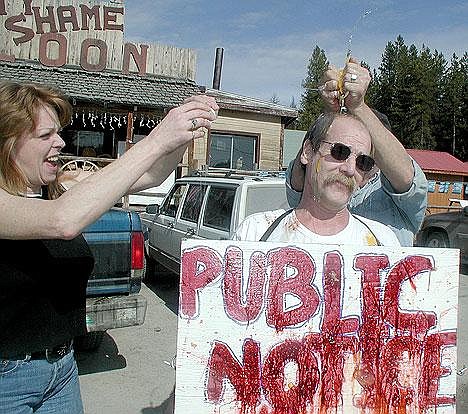 John Hollis cracks an egg on Rick Carsello head as Diane Chamberlin waits to go next. Casello, owner of the Dirty Shame Saloon in Yaak, was cited for failing to do monthly water tests at the bar. He agreed to the public flogging as part of his punishment.
|
March 28, 2006 11:00 PM
By GWEN ALBERS Western News Reporter
Rick Carsello got dirty to clean up.
The state cited and fined Carsello, owner of the Dirty Shame Saloon in Yaak, for repeatedly failing to test the water at his bar. Violating the monthly duty also requires posting a 14-day "public notice" as a courtesy to customers
Carsello took his responsibility a step further.
Wearing a sandwich billboard admitting to his wrong-doing, Carsello on Thursday stood outside his Yaak River Road bar, where patrons and friends fired tomatoes at him and crack eggs on his head.
"Now that's public notification," the 53-year-old said as tomato pulp and yolk dripped from his head.
"I think it's great," added patron Red Tomlinson, who tossed a tomato or two.
The state didn't mind Carsello's actions, as long as he pays the $1,180 fine and proves he posted the 14-day notice.
"We enforce the laws of Montana for public health. If you want to advertise through a sandwich billboard (that's OK)," said Daniel Kenney, environmental enforcement specialist with the state Department of Environmental Quality in Helena.
Law requires anyone with a public water system to take monthly water samples for sanitary reasons, Kenney said. The water is tested for coliform bacteria, which comes from sewage seeping into the water or other bacteria. Coliform can cause intestinal disorders, viruses and typhoid.
Carsello, who for 13 years has owned the bar, said he never missed taking his samples until March 2004 . He also failed to test the water in August, October and December 2004.
"You get busy sometimes," Carsello said. "It wasn't in my mind. I guess I was brain dead. It was a mistake. I didn't follow the rules."
The state cited him after the four violations.
"When you fail to monitor, you are supposed to supply public notice to water users to inform them the water has not been tested," said John Arrigo, administrator for DEQ's Enforcement Division, also in Helena. "That way they can make a choice as to whether they want to drink the water. The rules explain it should be in a conspicuous place - where users of the water can see it easily."
The violator must post the notice during business hours and send a certified copy to the state after 14 days. Carsello claims he's done that and had understood he had to run a public notice in a local newspaper.
"We don't have a local paper," he said.
That's why Carsello chose the public flogging witnessed by about a dozen people.
"I'm not making fun of these people. I'm making a statement," he said. "Good water is important to everyone."
"If he does that, that's fine with me," Arrigo said. "I don't care if he's egged."
The state provides bottles for water samples, which Carsello takes from a spigot; the Dirty Shame Saloon gets its water from a well. The law initially required testing every six months, then quarterly and then monthly; lab costs and fees cost him $300 a year.
"He never had a bad one," said Diane Chamberlin, who is Carsello's girlfriend and a barmaid at the Dirty Shame.
The fine will pinch Carsello's finances. A July 2005 motorcycle crash off Pipe Creek Road four miles from Yaak left him nearly dead and with $250,000 in medical bills. Carsello, who punctured his lungs, crushed ribs and had three skull fractures, had no health insurance. The Dirty Shame was closed for three months.
The Yaak Community Church Women's Group, which was holding its weekly Bible Study at the Dirty Shame, watched as Carsello was egged.
"We will be pray for him," said Winnie Canavan, a 50-year-resident of Yaak.
---