Julie Meyer among semi-finalists on KHQ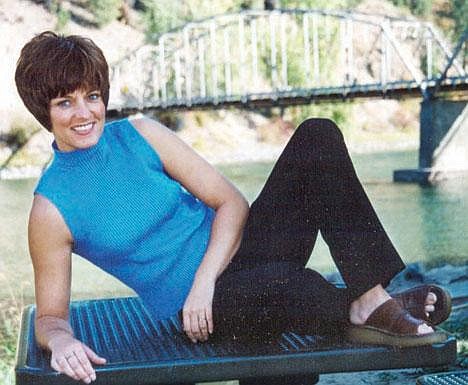 Julie Meyer will sing at 6:30 p.m. Sunday, April 23, on "Gimme the Mike" on KHQ Channel 6 in Spokane.
|
March 23, 2006 11:00 PM
By GWEN ALBERS Western News Reporter
A regular at local weddings, funerals and festivals, Troy's Julie Meyer is taking her singing talent to the airwaves.
Meyer, a self-taught, country-blues vocalist, is amongst 20 semi-finalists for this season's "Gimme the Mike" on KHQ Channel 6 in Spokane. Judges for the talent-search television show chose the 42-year-old from more than 500 contestants from Montana, Washington, Oregon and Idaho.
"I was excited," said Meyer, who auditioned with "Angel" by Canadian singer/songwriter Sarah McLachlan.
The news of Meyer's success didn't surprise Troy pianist Tony Smith, who for 15 to 20 years has accompanied Meyer.
"I think we've only scratched the surface," said Smith, a history teacher in Troy School District. "I think she's just so unique. She's the whole package when it comes to her ability."
Meyer on Sunday, April 23, at 6:30 p.m. will attempt to get in the finals by singing country legend Patsy Cline's "Sweet Dreams." The show will be televised from Northern Quest Casino in Spokane, where country star Aaron Tippin will appear one night earlier and Mr. Las Vegas Wayne Newton will take the stage on May 14.
The competition will begin April 9 and continue Sundays through May 7 with four finalists performing weekly. Judges each week will chose one for the finals on May 21. The public will choose a sixth finalist from the 15 remaining semi-finalists
The winner will receive a new Toyota RAV4 sport utility vehicle, a recording session and a sofa.
Winning will be tough.
"I would say this is the toughest year yet," said Mike Jackson, executive producer for "Gimme the Mike." "They are the most talented group from top to bottom."
Although Meyer chose her own song for the audition, the show's music producer picked the Patsy Cline song for the semi-finals.
"The music producer evaluates the voices and tries to find a song that best fits them," Jackson said. "At the same time, we try to come up with a song that's entertaining."
Meyer knows all about entertaining. At age 5, she began singing with her father, Clayton Price of Troy, during jam sessions with her aunts and uncles, Gordon Price, Alma Basham and Shorty Price, all of Troy; and her late grandfather, Gordon Price Sr.
"We did mainly country with guitars, violins and mandolins," Meyer said.
She joined the chorus at Troy High School, qualifying several times for district and state choirs before graduating in 1981. Meyer also has performed at the Kootenai River Rhythm at Memorial Center in Libby and Troy's Fourth of July annual celebration.
Encouragement to audition for "Gimme the Mike" came from her mother, Bonnie Price.
"Every year my mother asked if I as going to try out," said Meyer, the mother of Denver, 24, and Destinie, 22. "I just wanted to try it and see if I could make it."
Bonnie Price couldn't be prouder and will travel to the casino with her husband, family and friends to watch her daughter.
"I'm very excited of course," she said. "She's got a good voice. It's a unique voice, but of course, I'm prejudiced because I'm her mother."
Auditioning in front of the television camera was something new for Meyer, who works as a bookkeeper for Price Meyer Logging in Troy.
"I would rather sing in front of 500 people than a TV camera," she said. "Seeing more people there is more comforting."
Meyer's husband, Devin, admits he was a little surprised about his wife being named a semi-finalist.
"We were happy for her," Devin Meyer said. "There's so many contestants. She's a professional."
---