Leavitt offers support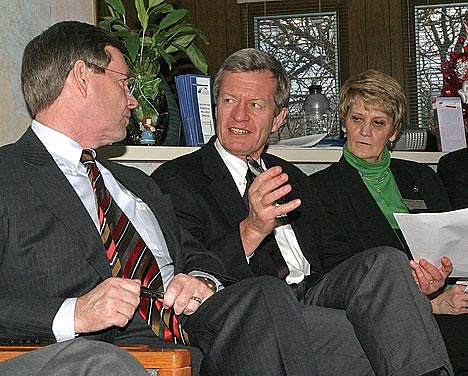 U.S. Secretary of Health and Human Services Mike Leavitt talks with U.S. Senator Max Baucus, D-Mont., and Lincoln County Commissioner Marianne Roose, also a board member of the Center for Asbestos Related Disease, about local needs.
|
March 14, 2006 11:00 PM
By BRENT SHRUM Western News Reporter
Federal Secretary of Health and Human Services Mike Leavitt listened to concerns from area residents and offered support for continued research into asbestos-related disease during a visit to Libby on Friday with U.S. Sen. Max Baucus.
After a visit to the Center for Asbestos-Related Disease, Leavitt — who previously visited Libby in 2004 during his brief stint as head of the Environmental Protection Agency — and Baucus made themselves available for a "town hall" style meeting at a packed Ponderosa Room at Libby City Hall. Several people shared their own experiences with asbestos-related disease, and asbestos victims' advocates and health care providers lobbied for assistance for research and treatment.
Eva Thomson asked Baucus not to vote in favor of the latest incarnation of the Fairness in Asbestos Injury Resolution Act, or FAIR, unless it includes criteria for diffusion capacity testing, without which many Libby asbestos victims may not be recognized as impaired.
"If you can't do it right, don't do it at all," Thomson said.
Baucus said he will try to get the criteria included in the bill but said he'll have to make a judgment call if it isn't.
"My bottom line is what's best for Libby," he said.
Gayla Benefield read a statement on behalf of the Technical Advisory Group, set up to oversee EPA cleanup activities, on the need for medical care and research, including animal research to help determine the toxicity of Libby amphibole asbestos.
Sandy Wagner read a statement in favor of establishing a trust fund for medical care to eliminate the uncertainties of the health plan established by W.R. Grace and to ensure local treatment and decision-making.
Bill Patten, administrator of St. John's Lutheran Hospital, pointed to funding needs to keep up with technology and staffing requirements. Baucus said he has worked to help rural health care providers and is committed to the issue.
"Bill, if it's not enough, let us know, because it's a huge issue," he said.
Clinton Maynard said the number of people exposed to asbestos from the former vermiculite mining operations in Libby is a result of failures at the federal, as well as corporate, level.
"This was allowed to happen due to inadequate federal policy," he said. "Regulators obviously looked the other way."
Frank Kujawa told Baucus and Leavitt of his father's struggle with asbestos-related disease and expressed concerns that people may "squander" their awards under the FAIR bill and suggested that the money should be invested in health insurance.
Alice Priest briefly noted that "another Zonoliter" had just been buried earlier in the day.
Mike Giesey, president of the CARD board of directors, noted that the clinic spends a lot of time on non-billable services to people and has a hard time meeting funding requirements with reimbursements from the Grace medical plan.
"It's a moving target, it seems like," Giesey said.
He said the plan is "pretty decent" as written, but it's not administered well. Grace's bankruptcy means the plan could disappear at any time, he said.
Leavitt showed interest in the medical plan's precarious situation in bankruptcy proceedings and suggested that the community might be able to intervene to secure funding for the plan.
Lincoln County Commissioner John Konzen said that was explored in detail, but legal advisers indicated it would be quite a fight.
"We were told you'd better have $14 million in your bank account if you want to take on a company of this size," he said.
In closing, Baucus said he's been committed to helping Libby on the asbestos issue since his first visit on the subject in 1999.
"If it's the last thing I do, I'm going to figure out a way to solve this," he said.
Leavitt said he couldn't listen to the stories he'd heard without wanting to help. He said he could feel the affection people in Libby have for one another and how they care about one another.
"As a person coming in from the outside, I want you to know I can feel that, and it's a good thing," he said.
Leavitt said he will work to bring attention to research being done on asbestos-related disease but cautioned that despite the expertise of CARD doctors Brad Black and Alan Whitehouse, researchers will still have to conduct their own tests and come to their own conclusions before what is known locally will be recognized by the medical and scientific community in general.
"There's no short cutting it," he said. "That has to happen."
Leavitt also urged anyone 65 or older or disabled to apply for prescription drug coverage under Medicare. In Montana, 100,000 people are eligible but have not signed up," he said.
---