Bischoff appointed to city council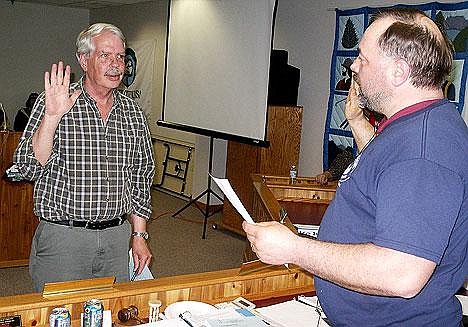 Mayor Tony Berget, right, swears in new council member Bill Bischoff.
By BRENT SHRUM Western News Reporter
Bill Bischoff was appointed Monday to fill a seat on the Libby City Council vacated earlier this year by Gary Huntsberger.
Huntsberger resigned after moving to a new residence outside the city limits. Bischoff, who is employed by Lincoln County as executive assistant to the county commissioners, was selected by a 3-2 vote out of a field of seven applicants.
In addition to Bischoff, applicants for the council seat were Ron Thatcher, Peggy Williams, D.C. Orr, Carol Ann Peltier, Ron Carter and Gordon Price.
Bischoff was sworn in following some procedural confusion on how to fill the vacancy. Mayor Tony Berget initially asked for a recommendation from a council committee that reviewed the applications, and committee chair Charlene Leckrone offered Bischoff's name. Councilman Doug Roll made a motion to appoint Bischoff, and Lee Bothman seconded the motion.
Before a vote was taken, council member Stu Crismore said the city needs to establish a policy for filling vacancies and stick with it.
"This is now at least the seventh different process we've used to fill a vacant seat since I started coming around," he said.
Berget said the process being used was recommended by the city's previous legal counsel. He said the current city attorney, Chuck Evans, had made a different recommendation on Monday before the meeting, however. Berget told Crismore he was welcome to make a policy recommendation after current nomination was resolved. Crismore said he was just exercising his right to discuss an issue before the council.
"What would you prefer?" Berget asked.
"I would prefer consistency, at some point in time," Crismore said.
The council voted on Bischoff's nomination, with Leckrone, Roll and Bothman voting in favor and Crismore and Wally McElmurry voting against.
Berget engaged in a whispered discussion with Evans, then called the issue into question. Berget said the city's charter requires a majority of the entire council — four votes — to pass an issue, not just a simple majority of the council members who are actually voting. Roll told Berget the charter only requires a simple majority, and the clause requiring four votes is contained only in the council's procedures.
Berget reviewed the issue privately with Evans and then recommended to the council that a new vote be taken using a different process. He said each of the seven candidates would be named individually, with a roll-call vote taken on each candidate. Berget called for a vote on Bischoff first. When the tally came in the same as the first, he declared Bischoff the winner and said there was no need to vote on the other candidates.
Also sworn in at Monday's meeting was Jason Place, who was hired to fill a vacancy on the city's police force. Place, who grew up in Libby, serves on the Libby Volunteer Fire Department and recently returned from a military deployment to Iraq.
---