Health forcing Libby artist to quit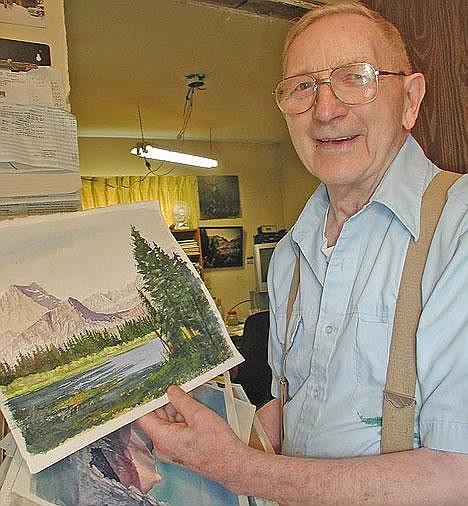 Best known for his works of Glacier National Park, the 80-year-old Al Nicholls is giving painting because he's losing his eyesight and is in poor health.
By GWEN ALBERS Western News Reporter
Al Nicholls has spent a good part of his life painting Libby's beauty.
Losing his eyesight and battling poor health, Nicholls is retiring his paintbrush. The 80-year-old, best-known for his more than 300 paintings of Glacier National Park, has one final landscape to complete.
In hopes that his work will remain a part of Libby, within weeks Nicholls will begin selling hundreds of his paintings. They include oils on canvas, watercolors and acrylics.
"I need to prepare for the worst and hope for the best," he said. "My eyes are just about shot."
Nicholls has cataracts, which is the clouding of the natural lens, or the part of the eye responsible for focusing light and producing clear, sharp images.
He also has macular degeneration. A condition that worsens with time, it's the most common cause of vision loss in those 50 or older, and its prevalence increases with age.
Macular degeneration is caused by hardening of the arteries that nourish the retina and deprives the sensitive retinal tissue of oxygen and nutrients that it needs to function and thrive. As a result the central vision deteriorates.
Mark Ogle, an oil and watercolor landscape artist from Kalispell and Nicholls' former instructor, is sorry to hear the news.
"He was a student of mine and turned into a dear friend," said Ogle, who met Nicholls during a workshop Ogle taught at Glacier. "I used to call him the scientist because he was always experimenting. He built this great outdoor watercolor painting kit like I've never seen used."
"There's like a brotherhood of artists," Ogle continued. "I figure when we get upstairs, we'll paint our hearts out. I love Al to death. He's a super neat guy."
Born in Butte, Nicholls moved to Libby in 1943 at age 17. For 25 years, he worked for the W.R. Grace mine and then got into construction.
He remembers getting into painting at age 7 or 8.
"I painted Pinocchio at my mother's kitchen table," Nicholls said. "I used to draw all the time."
When Nicholls turned about 60 years old, his wife, Marie, bought him an oil set. That's when he got started on landscapes of Libby.
"A real painter has a story to tell," Nicholls said. "The most successful painter has a specific theme and they become noted."
For Nicholls, it was Glacier National Park and Montana landscapes. For 20 years, he has sold his paintings at the John Clarke Western Art Gallery in East Glacier.
"The scenery is absolutely gorgeous," Nicholls said. "The east side is the real part of the park. You can sit there and paint, and not be near traffic. It's a remote area."
He's painted the Cabinet Mountains and has done commissioned works for people in Florida, New Jersey, Michigan, Washington and Oregon. Most purchased one of Nicholls' Glacier paintings and wanted another.
He shows geological details when he paints mountains.
"I love the mountains. Glacier has the biggest mountains," Nicholls said. "We used to go over in the camper and take photos for painting."
He's considering have his sale at the Veterans of Foreign Wars post in Libby and will announce the dates later. It will feature 12 to 15 major works and more than 100 minor works.
"I hate to give it up, but I can't continue what I really like to do," Nicholls said. "I can't see details. When I look at your face, I see your eyes, but no contrast, so you don't see what you have."
---