Speakers help LHS graduates imagine their future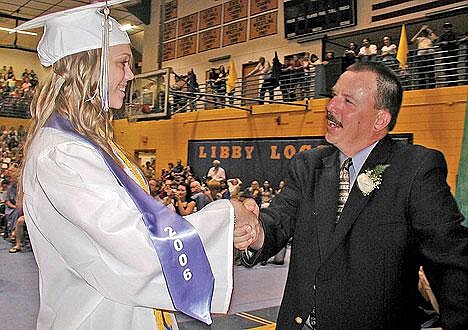 Assistant principal Jim Germany congratulates 2006 Libby High School graduate Jennifer McCully during Saturday's commencement services. More than 1,500 packed the Ralph Tate Gymnasium to watch 109 graduate.
By GWEN ALBERS Western News Reporter
Libby High School's Class of 2006 during Saturday's graduation got a glimpse of the future.
Speaker and retired Libby art teacher Christi Ellwood presented computer-generated photos of how each of the 117 graduates might look in 20 to 30 years.
Ellwood along with valedictorian Teri Rebo and salutatorian Lee Mickelson provided the inspiration to get them there.
"Every graduate will leave a lasting impression," Rebo told classmates during a speech that received a standing ovation from more than 1,500 attending the graduation in the Ralph Tate Gymnasium at LHS.
"You can decide how long each will last and what impression it will make," continued Rebo, who graduated with a 4.5 grade-point average and will study journalism and communications at Montana State University in Billings. "Make it memorable. You have the power to choose."
In a shorter speech prior to Rebo's, Mickelson had his own message.
"School is as much a social activity as academic," said Mickelson, who graduated with a 4.3 grade-point average and will attend the University of Montana in Missoula. "We have slowly characterized our own identity. Thus far we have had the courage to be ourselves."
One hundred and nine seniors went through the ceremony, while the names of eight graduates who could not attend were announced. A handful of students also are expected to graduate after this summer and next fall, said Principal Rik Rewerts.
Ellwood, who retired from Libby after teaching from 1999-2005, complimented the graduates about how "fabulous" they looked in their caps and gowns. She also thanked them.
"It really touched me when you asked me to speak," Ellwood said.
Because seniors have told Ellwood "she's older than dirt," and "she was born when dinosaurs walked the earth," Ellwood used a computer and everyone's graduation photos to "age" the seniors. She compiled the photos in a handout for each graduate and shared a few with the audience. Some of the students singled out included Greg Peek, Milan House, Kristen Brossman, Sam Schultz and Caleb Swartzendruber.
"I have a story about each one of you," Ellwood said. "Some are leaving town for an education, for jobs and serving our country. Real life is different than school."
She also passed on advice.
"Always do your best and be impeccable with your word. Get out there and rock the world," Ellwood closed.
She also had a message for parents.
"Your raised these little angels, you pushed when you needed to push and bribed when you needed to bribe," Ellwood said. "In many ways you are like teachers. I'm sure you have endured insults and sarcasm."
Students receiving diplomas were Merete Aanes, Shantell Adkisson, Austin Anderson, Ashley Auge, Amber Badding, Chris Bailey, Mike Bardole, Devon Barney, Courtney Barton, Tyler Benson, Virginia Blackburn, Tianna Bloomer, Joshua Bokor, Kristen Brossman, Darby Brown, Robert Cardwell, Zach Carlson, Chris Caudill, John Cernick and William Crismore.
Also, Brandon Cubberly, Jason Cummings, Seth Cummings, Stuart Dancer, Michael Decker II, Katherine Dedrick, Mary Dehnert, Jessica Doubek, Cassandra Doyle, Krista Duthrie, Matthew Edlund, Philip England, Zachery Ercanbrack, Jamie Fifield, Max Fischer, David Ford, Nathan Friss, Reece Gassett and Allie Gilden.
Also, Bethany Glover, Hunter Gragert, Jordan Green, Alyssa Grotjohn, Sara Ann Grotjohn, Chad Gullingsrud, Patrick Hartley, Brian Hermsmeyer, Travis Hjort, David Horelick, Chase Hosea, Milan House, Kara Howard, Zachery Hubbard, Richard Hutter, Ashley Ingbretson, Shane Kair, Wynter Kilgore, Ott Kohjus and Stephen Kujawa.
Also, Brittney Larson, Sara Lawrence, Michael Lisle, Cody Lozier, Luke Marchant, Katherine Marshall, Ross May, Jennifer McCully, Chris McHugh, Tina McLinden, David Merrick, Lee Mickelson, Raymond Muhm, Cassandra Myslicki, Carl Naccarato, Josh Nelson, Zachary Newman, Kennie Nick, Aimee Nixon and Jessica Obrecht.
Also, Andrew Orr, Kelly Orr, Alycia Pape, Katie Lynn Parker, Gregory Peek, Kacie Peterson, Kelly Jo Postlethwaite, Jared Quinn, Teri Rebo, Ashley Rhodes, Conner Rice, Stuart Rios, Quinton Rodriguez, Georgia Sam, Zachary Sanderson, Samantha Schultz, Cody Shriner, Devon Shuck and A.J. Sichting.
Also, Gabriel Sorensen, Jacob Spencer, Caleb Swartzendruber, Skye Teske, Justin Thorstenson, Hannes Tjellstrom, Nathan Trujillo, Austin Vincent, Ashlie Vinion, Brittany Vinson, Peter Votapka, Anthony Webber, Zachary Wiens, Cody Wilkes, Ellis Willoughby, Jessica Winn, Holly Woolston and Jeffrey Zwang.
---