Planning board proposal advances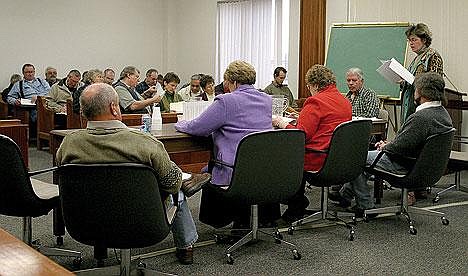 County officials discuss the establishment of a planning board during a hearing on Wednesday at the Lincoln County Courthouse.
|
January 26, 2006 11:00 PM
By BRENT SHRUM Western News Reporter
Lincoln County is moving toward the establishment of a countywide planning board following a public hearing on Wednesday.
The hearing was attended by about 40 people, several of whom offered comments that were mostly supportive of the proposal.
One of the board's first responsibilities will be the development of a comprehensive growth policy for the county. Assistant county planner Mary Klinkam pointed out that state law requires such a policy to be in place by Oct. 1. The policy can be drafted by the proposed board or within the existing structure of the county commissioners and planning staff, she said.
"One way or another, this has to be done," she said.
The board would work with the planning department advise and make recommendations to the commissioners regarding land use policy and development proposals. Responsibilities would include reviewing land use developments and administering subdivision regulations.
Several county residents voiced support for the proposal.
Lyle Brist, who submitted a letter of support on behalf of the Chain of Lakes Homeowners Association, indicated that a growth plan would be a good start toward dealing with increasing development in that area.
"You can't deny that growth is coming our way," said Carl Leggins. "It's already here."
Leggins said growth can be guided to ensure Lincoln County remains a desirable place to live, in contrast to the area where he grew up, which experienced uncontrolled growth.
"The field you were playing in one day was a shopping center the next," he said.
Rhoda Cargill said she would be in favor of a planning board as long as it is representative of the county's population "and not loaded to one side or the other."
Mike France expressed opposition to the board's creation, however, on the principal that government is "necessary, but it's dangerous."
"I'm very concerned about any more government anything," France said.
State Sen. Aubyn Curtiss said she empathizes with France on the issue of too much bureaucracy, but she suggested the board could accomplish positive things as well. Having a comprehensive plan can give the county more influence on decisions made by federal agencies, she said.
"With regard to that, I think it can be good, but it can be evil," Curtiss said.
The county commissioners plan to advertise for board members for the next three weeks. Members must be property owners and live in the county. There will be one countywide board, but subcommittees will be set up to represent different areas. Applications for the board will be accepted through Friday, Feb. 24.
---