Christmas blood drive nets 53 pints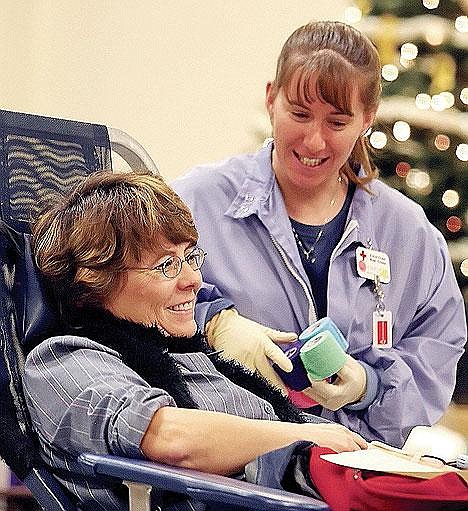 American Red Cross donor services specialist Jennifer Haines takes blood from Jeannie Heckman of Libby. (Photo by Paul Sievers)
|
December 26, 2006 11:00 PM
By GWEN ALBERS Western News Reporter
Don't ask Libby certified public accountant Jeannie Heckman to give blood during tax season.
She's too busy.
But for Christmas, Heckman will make the time.
She was among 53 people who donated 53 pints of blood during a Thursday drive at the Veterans of Foreign Wars Post 1548 in Libby.
"It's just the right thing to do no matter what time of year," said Heckman, who began giving blood in 1969 as a student at Montana State University in Bozeman. "Someone might need it. I've been giving ever since I weighed enough to give."
The turnout was about normal for periodic blood drives in Libby, said Margie Moe, a volunteer for the American Red Cross in Lincoln County.
"I really expected a few more, but I had a few calls from people who were sick," Moe said. "They all say this is something for the community and it's good to do. Most of them give every time."
For regular donor Myrna Shilling, giving at Christmas is a little more special. That's why she didn't allow her last-minute shopping and baking to keep her from donating.
"It's more special at Christmas," said Shilling, a U.S. Census employee from Libby. "It's the season of giving."
Christmas or no Christmas, Lester Jones gives blood because "it's the thing to do." He's been doing it for eight years.
"It's just a really nice thing to do," said Jones, a seasonal worker for Cabinet View Country Club.
Jim Willman started giving blood after terrorists attacked the United States on Sept. 11, 2001.
"My wife got me talked into it," said Willman, who works for Phillip Soucy Studios in Libby. "It's like a blood transfusion for me every two months."
---