Birthday dream comes true for Achievements client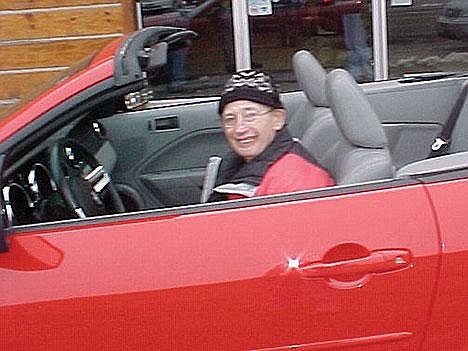 Danny Hoerner sits behind the wheel of a red 2006 Mustang convertible.
|
December 26, 2006 11:00 PM
By GWEN ALBERS Western News Reporter
Danny Hoerner can't stop talking about the chilly ride he got in one red hot convertible.
"He still wants to know where his red car is," said Barry Brown, who works at the group home in Libby where Hoerner lives.
Hoerner, who is developmentally disabled, for his 67th birthday on Dec. 8 got his lifelong wish to ride in a red convertible. He can thank Tracy Ellsworth, a caregiver for Achievements Inc. which owns the group home where Hoerner lives, and Timberline Auto Center for the top-down cruise.
To Hoerner, the three-block round-trip in a 2006 red Mustang on a 25-degree day was unforgettable.
"It's a dream come true," Ellsworth said. "It's something he's going to remember for the rest of his life. To know that myself and Timberline made the difference in his life - I'll never forget it."
"It just never ceases to amaze me how much this community supports our guys," added Pam Rhodes, program director for Achievements. "We live in a wonderful community."
Ellsworth and Brown are more than familiar with Hoerner's passion for red convertibles.
"Danny has a bunch of model cars that are red convertibles," Ellsworth said. "He's always dreamed about going in a red car with the top that goes down."
"He's just had an infatuation about this forever," Brown added.
Ellsworth wanted to see Hoerner live his dream before he got too old. So she made a phone call.
"I got the phone book and the first placed I called was Timberline," Ellsworth said. "I said, 'this may be a bit odd, but do you have any red convertibles?'"
When Timberline said "yes," she explained why she wanted the car.
Timberline provided the car and the driver - salesman Hunter Merriman.
Merriman gave Hoerner a ride to and from Achievements, also on Mineral Avenue.
"What really hit home to me is when they came back and he was sitting here in the car," said Terry Andreessen, owner of Timberline. "He looked up at me and he winked at me and said, 'I'm happy.' It kind of got to me."
"We all sit here in our complicated world and a lot of us have a hard time being happy," Andreessen continued. "That was one of the main goals in his life. It had an effect on everyone here."
It also had an effect on Hoerner.
"He wanted to take the car home," Brown said.
---