CARD taking center stage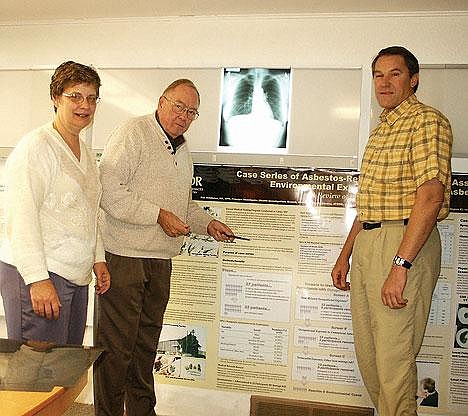 Pat Cohan, RN, Dr. Alan Whitehouse and Dr. Brad Black of the Libby Center for Asbestos Related Disease will make a presentation at the second International Mesothelioma Symposium at Caesar's Palace in Las Vegas Oct. 6-8.
|
September 30, 2005 12:00 AM
Representatives from the Center for Asbestos Related Disease in Libby will be making a presentation at the Second International Mesothelioma Symposium at Caesar's Palace in Las Vegas Oct. 6-8.
The presentation will be on the research about to begin in Libby trying to identify a blood "marker" for early detection of mesothelioma, a deadly cancer caused by exposure to asbestos.
Dr. Brad Black, Dr. Alan Whitehouse and Pat Cohan, RN, from the CARD will be attending the symposium. Black, who is co-investigator for the research project, will be presenting at the symposium. The doctors will also present a large poster that describes the Libby population, outlines the history of exposure to asbestos and looks at the mesothelioma rate found in the northwest Montana community today.
The two-year research project is being funded by the Mesothelioma Applied Research Foundation. In addition to Black, co-investigator is Dr. Harvey Pass, chief of thoracic surgery at New York University. Pass is former head of thoracic Oncology and Senior Investigator of the Surgery Branch of the National Cancer Institute in Bethseda, Maryland.
Mesothelioma is a malignant tumor that aggressively invades the mesothelial linings of the lungs, abdomen, heart or testicles. Mesothelial cells produce a number of soluble proteins that can be detected in the blood. Elevated levels of a particular protein called soluble mesothelin-related protein (SMRP) appear to be closely tied to the presence of mesothelioma.
Under the research project, CARD will be taking blood samples for one year from 500 people who had a high exposure to the Libby amphibole, or tremolite asbestos, found in the vermiculite mined and processed nearby for more than 30 years by W.R. Grace. An additional 500 people with minimal exposure will be sampled, also. All samples will be sent to NYU for lab testing, banking serum here for future use. That serum will be stored in the tissue bank funded by a Libby Area Development Council grant to CARD.
One year later, a second sample will be done using the same people, said Black.
"The second sample is to validate the first and also determine if there is a change with the markers," Black said.
A test for the presence of SMRP called Mesomark has been available in Australia since fall 2004 and became available in Europe in spring of 2005. The test is specific for mesothelioma and is 84 percent accurate. The Libby study could help scientists more accurate calibrate the test.
Black said Australia studies were specific to a different form of asbestos and the Libby study will help decide whether SMRP can be used a reliable marker for mesothelioma stemming from different types of asbestos.
"It shows great potential for detecting mesothelioma in the early stages of development in a patient," Black said of the testing. "We will be validating what a normal range of mesothelioma is in a highly exposed population."
Libby has the highest rate of mesothelioma in the United States, according to government health agencies.
Black said the research will enable CARD to provide some health care services to the asbestos victims in Libby.
"Pass is the key in this," Black said. "We wouldn't have the grant without his support to look into this. He's one of these people on top of the marker world."
---