Katrina evacuees married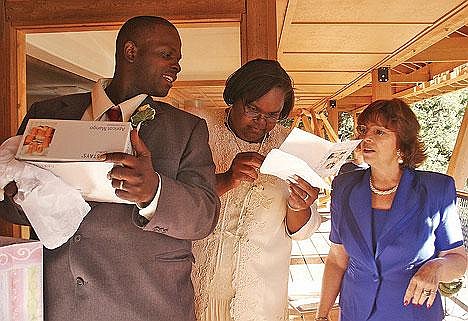 Deidre reads a wedding card as husband Tony and Peggy Oelberg look on Sunday afternoon during the couple's reception.
|
September 28, 2005 12:00 AM
By STEVE KADEL Western News Reporter
When two Hurricane Katrina evacuees were married Sunday on the banks of the Kootenai River, their love had already survived a bigger challenge than most couples face in a lifetime.
Deidre Jefferson and Tony Bernard, who have known each other six years and have a 3-year-old son together, were separated during rescue efforts in New Orleans because women and children were the first taken to dry land. Deidre and her son, Tahj, went to a shelter in Gonzales, La., while Tony was evacuated to San Antonio two days later, not knowing where his fiance and son were.
Libby resident Jennifer Micklon's mother Nancy Hedegaard was in the right place at the right time to reunite the couple. The Louisiana woman was volunteering in the Gonzales shelter and quickly befriended Jefferson and Tahj, who has cerebral palsy.
An Internet search of storm victims located Bernard. When Micklon, along with and Peggy and Trent Oelberg, offered their homes as temporary shelter, Hedegaard got airline tickets to Libby with money from a Louisiana church. The family met again at the Kalispell airport Sept. 16. Another Louisiana evacuee, 57-year-old Army veteran Paul Barbarin, arrived in Kalispell a day earlier with a similar offer of lodging.
The evacuees joined with their new hosts and a couple dozen friends Sunday afternoon for the wedding ceremony Jefferson and Bernard had planned to happen in another state. They beamed with happiness on the sunny afternoon.
Barbarin was there, too, celebrating with his recently made friends.
"You're smiling," he told the newlyweds. "I like that. You're beautiful people. Y'all enjoy. This is your day."
The new husband and wife said they don't miss Louisiana, especially the humidity.
"Some of the friends I grew up with, yes I miss them," Deidre said. "And I'm missing a Wal-Mart."
A registered nurse licensed in Louisiana, she already has been offered a job with the Family Planning Clinic in Libby. Deidre will start in a month when her application for a Montana nursing license should be processed.
Tony already has begun working as a log peeler for Meadowlark Log Homes.
"It's real easy work," he said. "It's like peeling a potato."
Meadowlark president Lloyd Miller said he heard of the couple's plight and decided to offer the job even though Tony had no background in the business.
"I realized he's not going to be that fussy," Miller said. "Hopefully he won't be peeling logs forever. That's where you start. That's where I started."
Peggy Oelberg told Miller he'd made a good choice. Tony has tackled several chores willingly around the Oelbergs' house, she said.
"I can attest to the fact he's a hard worker," she said. "He always thinks ahead."
Deidre, Tony and Tahj have lived in their own apartment in Libby since late last week. They've gotten around town in a van given to them by the Amish community.
Barbarin also has an apartment of his own, about a block from the other evacuees. The lifelong New Orleans resident has taken a quick liking to his new home in rural Montana, attending services Sunday morning at Assembly of God Church.
"They know how to praise God," he said. "It took me 57 years to find the right church, and I've found it at last."
Barbarin stayed in the New Orleans Superdome after Katrina hit the city. He called it "Criminalsville" and said he didn't sleep for three nights.
"I just went through hell," he said Sunday.
He still has no idea where his daughter and two grandchildren are, but he's sure they're in good hands.
"I know God's gonna take care of them," Barbarin said, leaning on a cane. "I miss them so much."
He didn't let thoughts of them intrude on the wedding celebration, though. Barbarin joined in with the festivities, laughing and joking with Tony and Deidre as they unwrapped presents on the Oelbergs' balcony overlooking the river.
Peggy passed out small bottles of soap bubbles, and bubbles occasionally floated through the sunlight, adding more gaiety to the atmosphere.
Some of the gifts were practical, including a fly swatter that Deidre jokingly aimed at her husband. Others were sentimental, such as a photo album for wedding photos.
"You've given us so many mementos," Deidre said. Then she joked, "All the people who spelled my name right will get a prize."
She and Tony said many people in the local community have been generous with gifts, particularly items needed for everyday life.
The couple met six years ago. Tony recalls that Deidre was eating fried chicken. She showed off her cooking talents Saturday night before the wedding by making chicken, green beans with sausage, and other favorite recipes for everyone.
"That chicken was so good," Peggy Oelberg said. She made a special toast before guests left the reception.
"I am so blessed to have Deidre and Tony and Tahj in our community. She's a quick wit and I've been blessed to have you in my house."
Trent Oelberg said privately that area residents have given something more valuable than tables and chairs.
"It's the fact that people see them in stores and say 'We're glad you're here,'" he said. "There's a lot of that going on."
Deidre and Tony said they consider Libby their home, not just a place to get back on their feet.
"Our dream is to buy a home because we intend to make this work out," Deidre said.
---