A snared male grizzly awaits his captors in the Cabinet Mountains.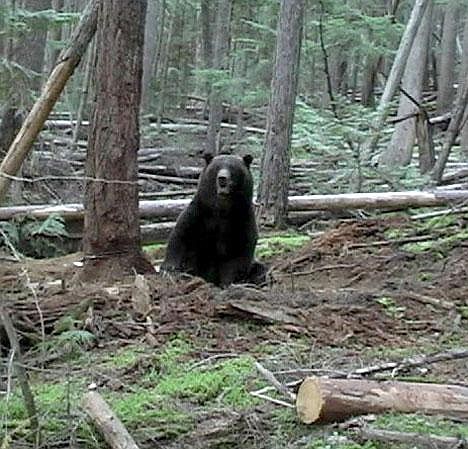 A snared male grizzly awaits his captors in the Cabinet Mountains.
|
September 28, 2005 12:00 AM
Male grizzly caught in Cabinets
By STEVE KADEL Western News Reporter
Wildlife biologists from the U.S. Fish and Wildlife Service captured and radio collared an adult male grizzly bear last week in the Cabinet Mountains Wilderness.
Harry Carriles and Tom Radandt estimated the bear to be 12 years old and weigh 550 pounds. It was caught in a foot snare along the South Fork of the Bull River on Tuesday, Sept. 20.
They lured it to the snare with the carcass of a road-killed deer, said Wayne Kasworm of Fish and Wildlife. It is the only grizzly the federal agency currently has collared in the Cabinets, he said, although there are six others wearing collars in the Yaak and southern Canada.
"It's a good-sized bear," Kasworm said of the new addition. "But this is the time of year when bears will be at their greatest weight, and we had a good berry year."
He said the bear, which biologists call Moss, is comparable in size to a grizzly that had to be destroyed in 1999 and is now on display at the Troy Ranger Station. That bear, named Pete, weighed just over 600 pounds.
Last Friday, Kasworm flew the area where Moss was snared and got a radio signal showing the bear was about a mile from the snare site.
Fish and Wildlife officials hope to monitor Moss about once a week, along with other grizzlies that are collared. The goal is to get information about their home range, denning sites, and other habitats they use.
"We also want to know if these animals are surviving," Kasworm said. "We monitor in case there's mortality. With females, we want to know about reproduction."
He said female grizzlies den before males. That usually happens in November, Kasworm said, although it has happened as early as the last week of October.
Some of the six Yaak grizzlies that are collared wear a GPS device that records latitudes and longitudes, storing the information in the collar.
"When we retrieve the collar we can download that information and tell where the bear has been," Kasworm said. "Some give readings each hour."
Moss could not be fitted with a GPS collar because his neck was too big, Kasworm said.
Meanwhile, hunters reported encountering a grizzly bear in the Cripple Horse drainage east of Lake Koocanusa during the weekend of Sept. 17-18. Kasworm said there have been reports of grizzly sightings in that area, but it's not common.
The hunters told Kasworm the bear came within 50 yards of them.
"It growled and woofed at them several times, and pawed the ground," Kasworm said. "They backed out of the area."
He has monitored a collared female grizzly in the McGuire and Pinkham mountain area for the past two years. Kasworm said that bear goes to the Whitefish Range to den up Grave Creek. Then she returns to spend summers near Pinkham Mountain.
Efforts to trap a female grizzly in the Whitefish Range and transplant her in the Cabinets are continuing, Kasworm added. An adult male and an adult female with young were captured there recently, he said, but those bears weren't suitable for release and monitoring in the Cabinets.
"We're looking for a young female who has not reproduced yet, probably between the ages of 2 and 5," Kasworm said. "They still have traps out. We'll give it another week or two."
---