Libby music radio plays at 105.3 FM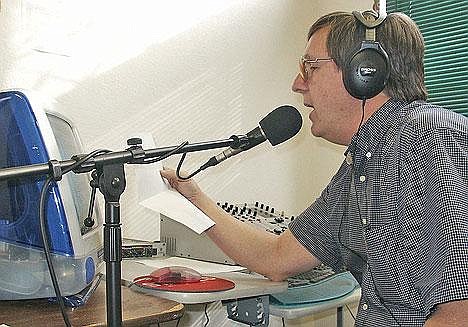 Rick Vogel takes a turn at the microphone during a broadcast of Libby's new FM radio station at 105.3 on the dial.
|
September 23, 2005 12:00 AM
By STEVE KADEL Western News Reporter
Working on a shoestring budget, two Libby men have begun broadcasting 24-hour music from their tiny one-room radio studio just off Mineral Avenue.
Rick Vogel and Jim Nelson are as proud as new parents about FM station KJRZ, which is at 105.3 on the dial.
"This has been five years in the making," Nelson said. "I feel that Libby has a need for this."
He describes the musical format as "classic rock and more," adding that the station also will play new rock, oldies, and even alternative and metal at times.
"We're leaving the door open to play Motown," Nelson said.
"Or Celtic," Vogel added.
They expect classic rock to comprise about three-fourths of the programming.
Music is stored on a computer hard drive and there's enough variety for 10 days of broadcasting without repeating a song. Although Vogel will be on air occasionally, programming will primarily be run by automation — at least in the beginning.
"We don't know what direction this will take in the future," Nelson said. "One priority is to squeeze every watt we can out of our antenna and get Troy in the mix."
They have FCC authorization to put out 100 watts, but are operating at half that amount now. Still, the sound is crisp as far west as Kootenai Falls. Vogel said his goal is to provide sound quality that is as good 20 miles from Libby as it is in town.
Both men emphasized that they aren't in competition with Libby's other radio station, KLCB-KTNY. They say they just want to provide a variety of music for people.
Vogel has worked at several radio stations in the past, and Nelson, who is president of Libby Video Club, said he's "been into radio and TV ever since I was a kid."
"We're the mad broadcasters," Nelson said with a laugh.
"It's the revenge of Jim Nelson," Vogel joked.
Their enthusiasm is evident as they bustle around the studio, pointing out various pieces of equipment and describing where they were obtained. Everything is being done with economy in mind as the fledgling station starts to take wing.
For now, there's no advertising and no revenue coming in.
"We're losing money," Vogel said.
"It's a way to get a foot in the door," said Nelson, who estimated he's spent about $2,000 of his own money on the project.
The Libby Area Chamber of Commerce actually owns what's called the "construction permit" to start the new station. It was acquired some years ago by a previous member of the chamber's board of directors, Nelson said.
He and Vogel are working with the FCC to have the permit transferred to them from the chamber.
In the meanwhile, they're having fun brainstorming the direction things will take. They want input from listeners, too, and will soon have a telephone number where people can call to comment on programming or make suggestions.
Local residents are invited to get involved with KJRZ. Vogel said "anyone with a passion" for the venture should call the chamber at 293-4167 to volunteer or donate toward expenses.
---