Jubilation followed by frustration at Demo Derby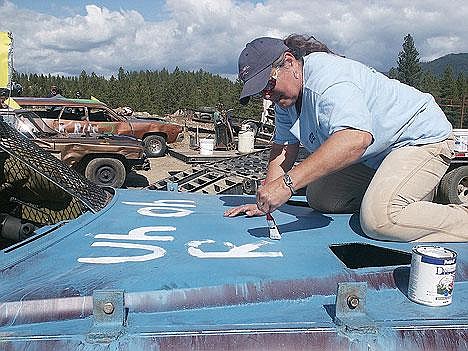 Jeanne Swope of Hot Springs paints "Uh Oh Racing Team" on her car's hood before the Powder Puff competition.
|
September 21, 2005 12:00 AM
By STEVE KADEL Western News Reporter
Scott Albert gunned his battered blue car into the pit after the first heat of Sunday's Kiwanis Demolition Derby with a trio of ecstatic friends running after him.
The Libby driver climbed onto the car's hood and high-fived his supporters as everyone whooped and hollered. Albert hadn't won the $1,000 first-place check, but he had earned his entry fee back by qualifying for the finals and a shot at the big money.
It was one of several moments of jubilation, countered by an equal measure of frustration, that marked the annual fund-raiser at Kiwanis Park. Thirty-seven drivers showed off their bravery, along with considerable mechanical skill in getting seemingly incapacitated vehicles to actually run.
Demo derby is in Albert's blood.
"My mom was driving when she was pregnant with me," he said. "You don't have time for fear. It's all butterflies and adrenaline."
Cars filled the parking lot and spilled out along Kootenai River Road long before the jalopies were scheduled to do battle. Kiwanis president Don Smart estimated 800 spectators attended. The crowd filled both grandstands and a dirt berm at one end of the arena, and kept the food booths busy between races.
The service club got $5,000 in gate receipts, Smart said, with between $2,000 and $3,000 left over after paying prizes and costs. The money will be used to support youth soccer, baseball and similar community programs such as "Koats for Kids."
"It's looking good," Smart said while watching spectators stream into the park on a sunny afternoon. "It raises a fair amount of money."
For the drivers, though, it was all about knocking the other guy, or gal, out of commission, with frantic activities in the pit just before race time. Jeanne Swope of Hot Springs got on hands and knees to paint "Uh Oh Racing Team" on the car she would later drive to third place in the Powder Puff event, which was won by Libby's Janel O'Bleness.
Her brother's car was well-beaten from previous races on the local circuit, but Chuck Swope was confident it would answer the bell once again. These drivers are good at coaxing performances from cars that other people have given up for dead.
"Even if it don't run, we make it work," he said.
Another Swope family member, David, was giving his machine a last-minute once over just a few feet away. He drove from his Polson home to Libby to acquire his derby car.
"It was in some lady's backyard," he said. "She wanted to clean up, so I got it."
When the exhaust cleared and the dirt stopped flying, Levi Faulk of Bonners Ferry walked away with the $1,000 first prize overall. Jason Whittaker of Naples, Idaho, won $500 for second place, and Libby's Ron Remp got a $250 check for third.
Four hours of competition provided an enjoyable afternoon for everyone on hand. Smart said the Kiwanis event is possible only through volunteering of services by lots of local merchants, including those providing wreckers to remove the losers that can't leave the arena under their own steam.
"There is a terrific amount of donations," the Kiwanis president said.
Results
Open Class
1. Levi Faulk, Bonners Ferry, $1,000; 2. Jason Whittaker, Naples, Idaho, $500; 3. Ron Remp, Libby, $250.
Compact Cars
1. Chris Smith, Libby, $100; 2. Chris Cheff, Columbia Falls, $50; 3. Sam Kair, Libby.
Powder Puff
1. Janel O'Bleness, Libby; 2. Jodi Dodge, Libby, $50; 3. Jeanne Swope, Hot Springs, $25.
---