Bicyclist takes a different approach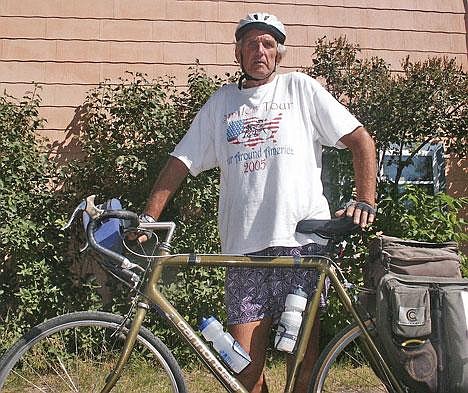 Ernie Neupert, a 65-year-old cancer survivor, rode through Libby on Wednesday during his coast-to-coast bicycle tour to publicize diabetes and raise money for research.
|
September 14, 2005 12:00 AM
BY STEVE KADEL Western News Reporter
He's 65.
He's a colon cancer survivor.
And he's riding his bicycle coast-to-coast and back again to raise money for diabetes awareness and research.
Ernie Neupert stopped in Libby on Wednesday — briefly — to talk about his trek that began in April in his hometown of Paisley, Fla. Since then he has ridden to Los Angeles, up to Spokane and Montana, and is heading on to Maine before racing the snow south to Florida again.
"I'm having the time of my life, and I'm trying to help people," he said.
Tall, tanned and fit, Neupert has special reason to hit the road. His wife was diagnosed this year with Type II diabetes. Neupert wants other potential victims to learn more about the disease. Pledges are being enlisted, too, although he has no idea how much has been raised so far.
He calls the tour "Uncle Sonny's Bike-A-Thon to Battle Diabetes." His bike's odometer read 4,157 elapsed miles as he stopped for a breather in town this week.
It's not his first bicycle marathon. Neupert celebrated his 60th birthday by embarking on an 8,038-mile coast-to-coast trip five years ago.
"My cancer doctor forbid me to do this," he said with a big grin. "I don't listen too good."
The first trip raised money for the American Cancer Society. The American Diabetes Association is this year's recipient, with Neupert having begun his long ride during the association's Tour de Cure in Clermont, Fla.
He says he feels physically better now that at any time in his life. His 86-year-old mother provides inspiration, he said, by riding her stationary bike several miles each day.
"I'm living my childhood now," Neupert said. "I wanted to do this in high school. Now I'm doing it with an adult mentality to help others."
Those who want to contribute may do so by sending a donation to Uncle Sonny's Bike-A-Thon, c/o American Diabetes Association, 1101 N. Lake Destiny Road, Suite 415, Maitland, FL, 32751. Anyone with questions may call the ADA at 1-800-676-4065ext. 3037.
This won't be Neupert's last bike tour, he hopes. The endurance king is planning another coast-to-coaster on his 70th birthday to benefit the American Heart Association.
"Assuming mine's still going at that time," he joked. "I want this to be an inspiration to young and old people. If you want something bad enough — regardless of money, regardless of age — you can do it."
Then he hopped aboard his bike and began pedaling down California Avenue toward U.S. Highway 2. He turned and called a last bit of advice over his shoulder.
"Never give up on life."
---